Abuse at the Hands of Steven Crowder
Steven Crowder is a 35-year-old conservative political commentator with a following of over 5.5 million. His career began on Fox News, a far-right news channel, and now he hosts a podcast called "The NUMBER ONE conservative late-night comedy show." He is best known for his series "Change My Mind," where he approaches bystanders in public spaces and begins engaging politically with them. 
Although he has faced countless controversies, his current backlash may be his worst yet. A ring video was leaked that dates back to June 2021 of Crowder threatening his eight months pregnant wife. He was seen yelling at her because she did not complete her "wifely duties" while he sat on a couch and smoked a cigar. 
Crowder wanted his wife, Hilary, to help walk the dogs. But she feared that the medicine given to the pets could harm her pregnancy. So instead of treating her with understanding, Crowder said, "Put on some gloves. Are you committed enough to do those things? So… walk the dogs and put on some gloves."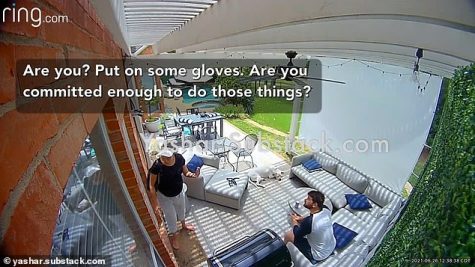 Steven Crowder claims to be "boxed in" by Hilary and restricts her from using the car to get groceries because it would mean he couldn't go to the gym, saying, "I drew a boundary. So you are not taking the car." He also tells her another reason she can't leave. "Because if you refuse to do wifely things, then I will go get the groceries," referring to her inability to walk the dogs. 
"The only way out of this is discipline and respect," he told Hilary. "It's the only way out of this." Throughout these demands and berating, Hilary remains calm and reassuring towards Steven, continuously telling him that she loves him, to which he responds by saying the problem is that he doesn't love her. She can be seen breathing deeply and choking back tears. At one point, she states, "I love you … but your abuse is sick." This caused Steven to go off the edge, telling Hilary, "Watch it. Watch it. F*****g watch it," he is later heard yelling, "I will f**k you up."
Steven recently announced that he has been going through a "horrendous divorce" and even complained about Texas laws surrounding divorce. "My then-wife decided that she didn't want to be married anymore, and in Texas, that is completely permitted," stated Crowder.