Since the 90s, people in the music scene, mainly rap, started talking about how they drink Codeine but referred to it as sizzurp or lean. The drink took over, and soon enough, many rappers were drinking Codeine mixed with their choice of soda, which is still being used widely today. Codeine is an opioid pain reliever, according to the FDA, but is typically mixed with other medications such as aspirin, acetaminophen, or promethazine for cough reduction. The drug puts the user into a drunken-like state where they may feel dizzy, confused, euphoric, dry mouth, tired, blurred vision, and confusion. This high is what gets people easily addicted to the opioid. Rappers have made Lean seem like a fun, harmless drug, with the late DJ screw (1971-2000) being the first to sing about drinking Codeine and pioneered the use of it in rap music.
Since then, the popularity has only grown with artists like Three 6 Mafia, Lil Wayne, Fredo Santana (Deceased 1990-2018), Future, Playboi Carti, and Gucci Mane professing their love for the substance. Songs named "Sipping On Some Syrup" by Three 6 Mafia, "Lean 4 Real" by Playboi Carti, and even a whole Gucci Mane album is titled "Lean." Rappers sip Codeine like it's nothing but don't understand the tragic consequences that follow due to long-term usage. Codeine tends to cause the user to get bloated in the face and stomach, similar to what someone may get from drinking too much alcohol. Since a lot of Codeine syrup is mixed with acetaminophen, the liver is more likely to be damaged, as acetaminophen is known to cause damage to the liver with extended use. Not only are long-term effects present from codeine use, but short-term effects can happen, such as an overdose.
Codeine is still an opioid no matter how less dangerous it is than other opioids, so overdoses happen if someone drinks too much of it, doesn't know the potency of the syrup, or mixes it with other drugs. A rapper named Lucki has had to deal with the sad consequences of Codeine, causing his face and stomach to bloat. He used to be a skinny man before he got into the drink, but after using it for too long, he has become so bloated in the face and stomach that it has aged him and made him look a lot older than he is, even though he is just 27.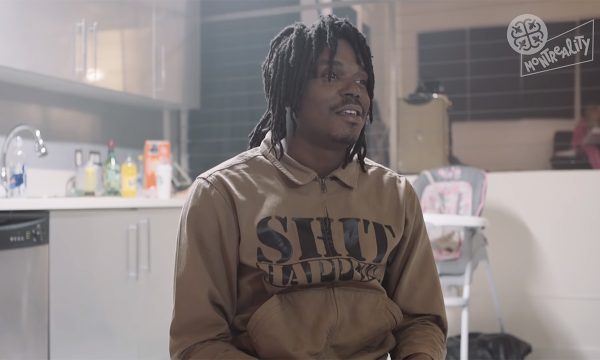 Lucki after long-term use of Codeine.
He relies on this drug on a day-to-day basis and recognizes how bad the narcotic is, but he still chooses to keep using it as he is addicted to it. This is an example of people starting to use Codeine for fun with friends and parties and then using it as a way to cope and get through life. Today, Our youth is being corrupted by this awful drug, with teens barely in high school using it. Even though the drug is expensive, it is far too easy to obtain, and no matter what negatives there are, be it money, health, or even their life, people just continue to drink it. It has been used to flaunt wealth because of the astronomical prices people will pay for it, but in the end, all it is destroying their healthy bodies and setting them up for a future of drug addiction if they don't stop what they're doing.