Since Saturday, October 7, Israel has been at war with the terrorist group Hamas, officially known as the Islamic Resistance movement. While Hamas and Israel have had ongoing conflict over the official state of Israel, an attack brought out by Hamas started an all-out war. 
On October 7, Hamas militants from Gaza launched a full attack on Israel with the backing of Iran. They first fired thousands of rockets into Israel before infiltrating the border of Gaza and Israel, attacking from land, sea, and air. The gunmen killed at least 1400 people and took many hostages. The attack took the IDF of Israel's defense forces by complete surprise. There had been no warning signs or indications of an imminent threat by Hamas. It has been speculated that Hamas militants dug underground tunnels up to the iron gate and used the concealment to blast through into Israeli territory. Hamas called the infiltration operation Al-Aqsa Storm. This attack was motivated by the mistreatment of Gazan women as well as the rest of the population and the destruction of the Al-Aqsa mosque. 
Hamas allegedly shot 5,000 rockets into Israel and then infiltrated the border, riding in with guns, shooting Jewish settlers, taking hostages, and destroying kibbutzim. A kibbutz is a small, enclosed community where the citizens live under communal principles. Israel then launched rockets, destroying a large building. Shortly after, Benjamin Netanyahu, Israel's prime minister, declared an official war. The war quickly escalated with Hamas killing and taking over a police station and rockets shot near the Gaza- Israel border. Just one day after the war was in full swing, on October 8, Monday night, Hamas addressed the hostages taken. They announced that if Israel were to bomb women, children, or the elderly without warning, they would kill one of the hostages. The difference between hostage executions now and in the past is that Hamas can now threaten to post videos and photos circulating worldwide through social media. As for hostages, a reported 199 civilians from different nationalities were taken hostage and being kept in an unknown location in Gaza. The hostages were seized after the attacks; some families did not find out if their loved ones were alive until they saw videos posted online of them being taken by Hamas.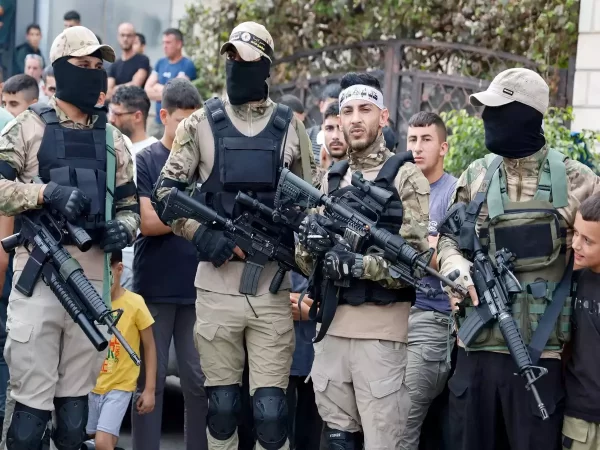 Thousands of people have been killed in the Gaza Strip and Israel, and thousands more have been injured and displaced. Along with Egypt, other pro-Palestinian countries have closed their borders to Gazan refugees. This leaves the citizens of Gaza stuck in a dangerous situation. 
At the same time Israel is being attacked by Hamas, the country is also looking out for an invasion from Lebanon by another terrorist group, Hezbollah. Hezbollah is another terrorist group backed by Iran based in southern Lebanon. It calls itself a "state within a state." They have already launched a rocket into northern Israel, killing at least one person. According to Israeli Defense Forces, there has been escalation and movement in Hezbollah groups as they infringe on the Israel-Lebanon border. As well as keeping an eye on the situation in Lebanon, Iran has announced that they will get involved if Israel does not stop their attacks.
Not only has the war affected citizens in Israel, but protests and violence have broken out all over the globe, with a teacher in France being stabbed, two Swedish citizens being shot while in Brussels, and a six-year-old Palestinian living in Chicago being stabbed and killed. All of this is due to the rising conflict between supporters of the state of Israel and Jews and supporters of Palestine and Gaza.