Although the spooky season may last, pumpkins and fall activities are still raging. One of those activities that last well into fall, especially with desserts at Thanksgiving, is pumpkin patches. Here in Corona, we are lucky enough to have an annual local pumpkin patch, The Pumpkin Factory; they run from September 29 to October 31 with several rides, games, and, of course, pumpkins. The Pumpkin Factory also offers free entry from Monday to Thursday and charges $5 per person from Friday to Sunday. They also have different specials depending on what ticket packs you buy.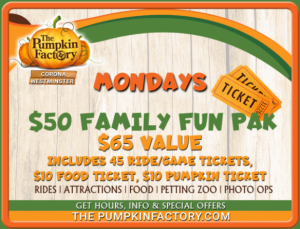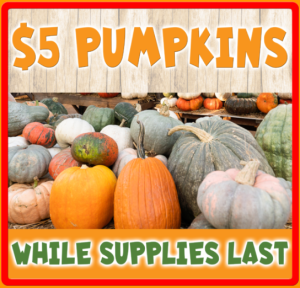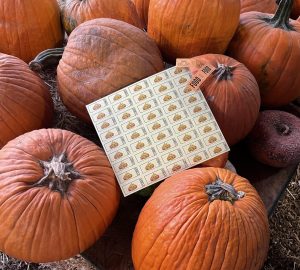 Having gone on a Monday, I was able to get free entry. As for the tickets, I got two Family Fun Paks (45 tickets each), which singularly bought cost $50, including a $10 food ticket and a $10 pumpkin ticket per pack. For a party of 3, getting two packs (90 tickets), we estimated we'd be able to get on about five rides together. Since most attractions are directed towards younger kids, this was a good amount of tickets. The packs also gave us $20 in pumpkin and food tickets. With each pumpkin being sold for $5, this sounded like a good deal as we could get four pumpkins, and they would be practically free as they were included in our deal.
Our first stop was the Petting Zoo, with goats, chickens, a lamb, and a llama (7 tickets each). After about 5ish minutes of waiting, we were let into the pen. I was given food pellets to feed the animals, which a goat ran at me to get- and then did want to let go of my arm. All the animals look calm and playful; they are also very soft to pet. You can stay for as long as you want, and it's not full of people, so you and the animals have enough space to move about.
The first ride we got on was the Swings, which move you in a circle and hold you above ground(8 tickets each). It is a ride that any age can enjoy; you must be 48″ and up. Apart from the loose hay used as decoration blowing into my eyes for some sections of the ride, it made for an entertaining experience. The swing structure also had lights that changed colors, making the ride look more inviting.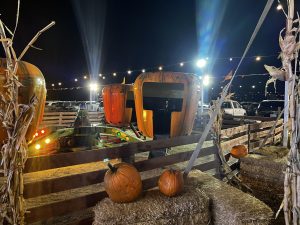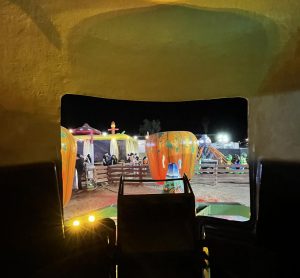 We then headed towards the Pumpkin Spin, an amusing ride for every age very well decorated to fit the theme (8 tickets each). You step into an enclosed metal pod painted to look like a giant pumpkin, with a square opening to look out from and a wheel in the middle to spin the pumpkin. This has always been my favorite ride at fairs, and the Pumpkin Spin did not disappoint. It was definitely the most entertaining ride I got on all night, and remembering I was inside a pumpkin made it even better.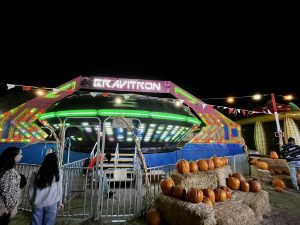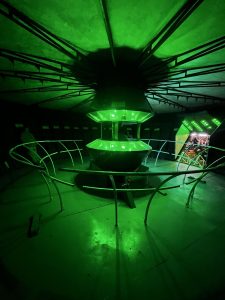 To finish up the spinning ride streak, we headed to the Gravitron- only 2 of us got on (8 tickets each). After a big spinout on the pumpkins, I wasn't feeling too confident about another. Ultimately, it was as fun of a ride as I remember- and lasted even longer. Before you even step into the UFO-themed ride, you're greeted by bright multicolored light that follows you to the inside. Once the ride begins, your body sticks to the cushioned wall as the music loudly plays; you start to float until you reach the top, then get set back down; you're stuck in this loop until the end.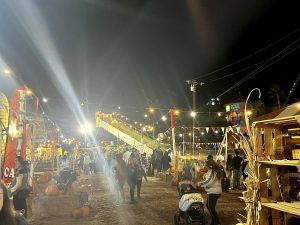 By then, there were only five tickets left, so only one person could get on either the Super Slide or the Giant Corn Slide. I choose to get on the Super Slide (4 tickets). The slide is not too tall, meaning it was not a scary height to walk up to or slide down from. It is 1 of the two lowest-costing rides, which makes it worth its ticket price. Although, I do not doubt that it is a much more enjoyable ride when done with multiple people. It gives you a chance to "race" with friends and family as you quickly plunge through the bumps on the slide.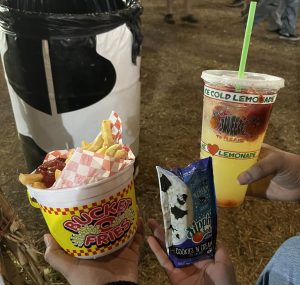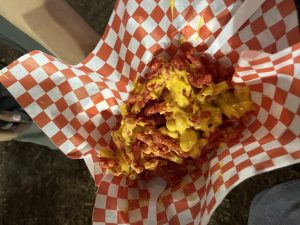 After visiting all the rides we could and having only one ticket left, there wasn't much left to do but eat. We headed to the food stand, which had a relatively long line, and we looked over the menu as we got in line. We planned on getting a bucket of fries ($12), a funnel cake ($17), dippin' dots ($8), hot Cheetos with cheese ($10), two large freshly squeezed lemonade ($20 total), and an agua fresca ($10). When we got to the front of the line to order, they told us they were all out of funnel cakes and that they only sold agua frescas on the weekend- they do not warn you of that ahead of time. We ordered two dippin' dots ($16 total) and another lemonade (another $10) on top of everything else. The fries were probably the best part; they tasted fresh, were thickly sliced, and stayed hot until we finished eating them; you can share them between 2-3 people. The hot Cheetos were also served in a shareable portion and tasted like nachos with jalapeños. The giant lemonades were undeniably true to size, although the taste was standard.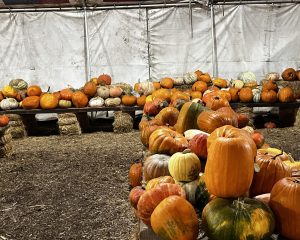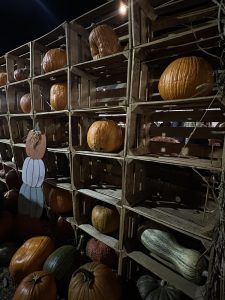 Finally, as we saved it for last, we went pumpkin picking. It was pretty fun because you can choose any pumpkin you see. This can be from inside the tent, along the rides, or placed on display. We picked out four pumpkins and had hope of them all coming out to be "free" in some terms. With the two $20 pumpkin tickets we bought and the $5 per pumpkin exceptional, it would work out. We were ready to leave for the night and needed to cash in the tickets. Before we paid, we were stopped by security and asked if we were paying cash or card; when we answered that we'd be using the tickets, they said they were only accepting those for small pumpkins. This was never a mentioned condition either on the promotion photo or sold the tickets. When we went to pay, the person at the cashier said nothing about it and accepted the tickets. Upon exiting, we were once again stopped by the same security, and we had to explain they bought the tickets, and then we could leave.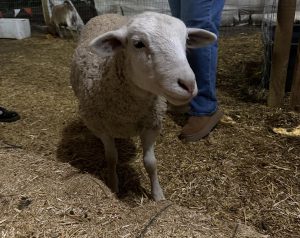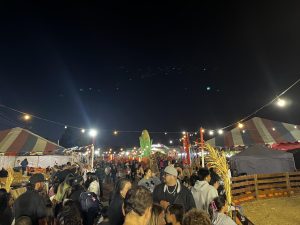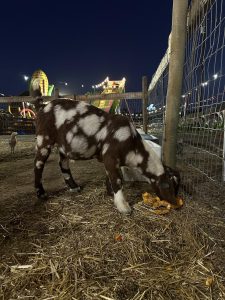 Overall, it was a fun experience, and you should take the time to visit next year. It wasn't too packed, and it was relatively easy to walk around once in the crowd. I also spotted a few people in the Halloween spirit who came dressed in costumes; The Pumpkin Factory hosts a Halloween bash on the 31st and Frosty's Village later in the year.