Movie of the Year: 2022?
This year, 2022 has brought in hundreds of movies so far, but the question still remains of which movie can potentially be the best movie of 2022. In this article, I will use a few resources and find which movie is the movie of the year. Movies are a form of entertainment that brings human beings together, to enjoy and interact with common interests. A movie can make a group of people laugh, weep, and frustrate together in a matter of minutes as movies can present to be an emotional roller coaster. 
The box office is what's used to check what the commercial success is for particular movies, plays, and actors. So to find out which movie is considered the movie of the year so far, I checked the box office and found out in my research that the top 5 movies which accumulated the most money at the box office in 2022 were:
Top Gun: Maverick ($1,423,569,879)

Jurassic World Domination ($990,635,845)

Doctor Strange In  the Multiverse of Madness ($955,152,198)

Minions: The Rise of Gru ($869,421,490)

The Batman ($770,836,163)
 Next, to further my knowledge on what movie could potentially be considered for best film in 2022, I checked rotten tomatoes. Rotten Tomatoes "is an American review aggregation website for film and television".  I checked for the rankings of the best movies released so far in 2022 on Rotten Tomatoes, where I discovered that the top 5 ranked movies on rotten tomatoes in 2022 are: 
Top gun: Maverick

The Batman

Everything Everywhere All at once 

The Northman 

Turning Red
 So, based on these two sources, the best movie so far released in 2022 is Top Gun: Maverick. This movie is a heartwarming action-packed sequel to the hit 1986 Top Gun starring hit actor Tom Cruz. This movie is a blast from the past and gives much nostalgia. Maybe it's the big strong muscles Miles Tenner shows off or the fact that it makes grown men cry. But for some reason whether you hate it or love it, this movie will forever be iconic and known as not just potentially the best movie of 2022, but a great film in the history of the film works production.
View Comments (2)
Your donation will support the student journalists of Santiago High School - CNUSD. Your contribution will allow us to cover our annual website hosting costs.
About the Contributor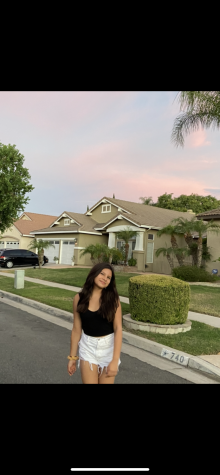 Abby Delgado, staff writer
Abby Delgado (9) is a current Freshman at Santiago High School where her favorite subject is Language Arts. Her interest in writing developed when she...