Advanced Theatre Show Recap
Advanced Theater students talk about their recently closed show, Marian or the True Tale of Robin Hood
Towards the end of October, Santi's Advanced Theater class had its yearly show. The fall production was Marian or the True Tale of Robin Hood. This play is a progressive and gender-bending twist on the classic tale of Robin Hood. Marian was written and published in 2017 by Adam Szymkowicz. The story follows Robinhood, who is secretly a woman named Marian. Later in the story, Marian goes on to give the title and responsibility of Robinhood to another woman named Alanna, who is also in disguise as a man. Both women are determined to protect Nottingham while avoiding the disadvantages women faced in that era. This play was a comedy with many modern references to our current social and political climate. The medieval play had multiple notable characters that had the audience laughing. The Advanced Theater students opened their show on October 26th running through the 28th. Although the cast was skeptical about high audience turnout, based on a lack of student support in past shows, the Theater Department was very excited to see filled seats on all three show days. 
The process of putting together a play in Advanced Theater is pretty routine for the first semester. The Theater teacher, Ms. Beyer, announces the show to the class. We, the Advanced Theater students, then begin auditions a couple of weeks after, to give us time to study the show beforehand. By September, we begin the rehearsal process. During our first-period Advanced Theater class, we rehearse the show. We continue running through the show while we add in lights, sounds, blocking, props, and other design elements up until the week of opening. That Monday and Wednesday, we did a full rehearsal with costumes and props. Although we had limited time for preparation, Advanced Theater students know how to adapt and learn quickly. 
The cast had mixed emotions of excitement and anticipation. We all had faith and endless support for each other the first night. Before the show and during our call time, we rehearsed some more until we felt confident. Our opening night went amazingly well. We looked out for each other backstage- making sure no one was forgetting props. We also encouraged each other before a scene and ran lines with actors who wanted to go over before stepping on stage. Our whole class was very impressed and proud of each other. Our audience was exceptionally supportive as well! Ms. Beyer was always available to us for feedback and words of encouragement throughout the entire process, which made us feel more confident.
It was a Friday night, our class was already very tired from the past two shows. We were so tired, Ms. Beyer left her classroom open only for Advanced Theater to relax during office hours that week. So that Friday, our class was ready and pleased to close the show. We had such great shows the past few days that we weren't sure how much better it could get. The audience had an amazing energy that the cast fed off of. We get word from the tech booth, that our theater is more packed than ever. We all got so excited to hear many students come out to support and see the show. The cast felt really good and motivated us to really engage the audience more than ever. After the show ended, the class celebrated and went out to eat. We all were so pleased with the show we were able to put on thanks to Ms. Beyer and our tech crew. As of now, Advanced Theater is rehearsing a one-act play to use for festivals and competitions.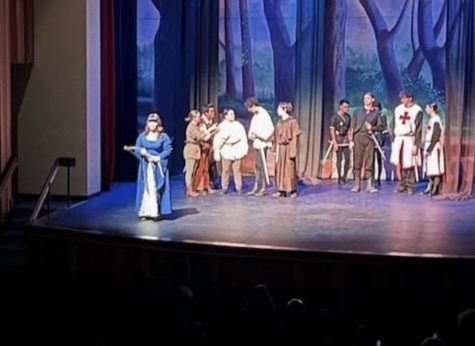 I went ahead and asked some of the cast members how they felt about the show.
What's your name and what was your role in the show?
"I'm Victoria Marks and I played Alanna Dale!"
"My name is Ishmael Ponterelli and I played Much the Miller's son/child"
What was the best part about doing the show?
Victoria: "The best part was getting to finally see the audience's reactions at the end of the night. Just getting to share the show with them overall and being able to see our hard work pay off on stage."
Ishmael: "The best in my opinion was my coming out scene. I always looked forward to seeing the reactions from the audience because it was very different all three nights of the show."
What was the most stressful part of the show?
Victoria: "Probably the quick changes I had backstage, especially during the first act because I only had around ten seconds to do it, before getting right back on stage."
Ishmael: "The most stressful part was definitely playing a character that was non-binary and having to come out during the show."
Which performance night was your favorite?
Ishmael: "My favorite was probably closing night because the reactions from the audience that night were really positive, and even some people were audibly shocked"
Look out for Theatre 2 and Advanced One-Act performance at the end of January and our spring musical The Lightning Thief April 20-22 to support the theater department. Tickets can be purchased at Online Box Office – BookTix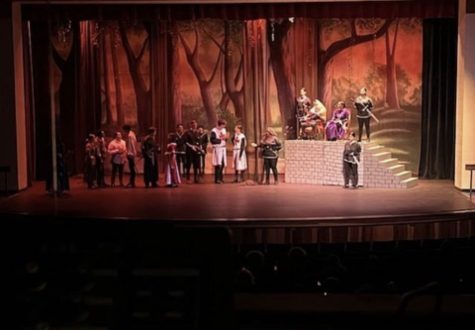 Leave a Comment
Your donation will support the student journalists of Santiago High School - CNUSD. Your contribution will allow us to cover our annual website hosting costs.
About the Contributor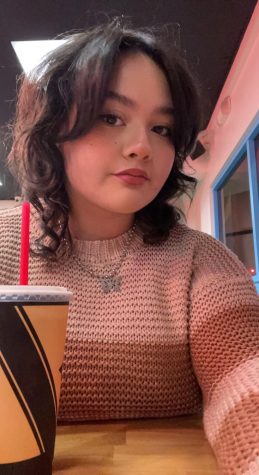 Breanne Soto, Staff Writer
Breanne Soto (11), a current junior at Santiago High School, plans to pursue journalism in college. Since very young, she has always had an interest in...