Did you hear? Sophie Turner and Joe Jonas are no more! The couple posted on September 6, 2023, "After four wonderful years of marriage, we have mutually decided to end our marriage" through an Instagram post amicably. There has been speculation since Joe Jonas was spotted in New York without his wedding ring on August 11, 2023. TMZ reported that the couple has been having issues for the past few months, and Jonas even met with two divorce attorneys from the LA area. The couple have asked for privacy for not only themselves but also their two shared children, who are very young.  
While many are shocked over the news of their divorce, many speculate that the marriage isn't being "amicably" ended. According to Molly McPherson, a public relations consultant, there is a hidden meaning between their actual post. For example, McPherson states that "every single time I am asked to add the word 'amicable' or 'amicably' to a statement, it's because it isn't amicable." McPherson is known on TikTok for breaking down PR statements that are celebrity-related because even the most crafted statements released can mean something completely different. 
As news articles came out about the couple's divorce, many reports came out painting Sophie Turner in a negative light. These articles made many fans and people speculate that Joe Jonas and his PR team used old Hollywood tactics, which is when PR teams released bits of information, hoping they could change public opinion. Since the public image is so important today, especially in their profession, removing information allows for one party to be painted in a better light than the other. For example, as the divorce was announced, a "source with direct knowledge" gave "information" regarding why they were divorcing. According to TMZ, this "source with direct knowledge" reported that "she likes to party, he likes to stay home," however, fans came to Turner's defense stating many interviews were saying.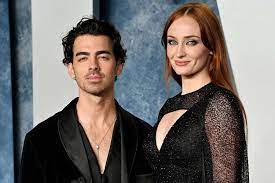 she is a homebody. Others have criticized Turner after photos were posted of her partying "without a care in the world" after a wrap party for a TV series. However, many defended her, justifying it to her young age or even saying they partied like that when they were her age. The bartender, Hezron Stephenson, even said, "She was just finishing work and going home," after saying she wasn't drowning out her sorrows or forgetting that she had kids. He even apologized for the trouble the photos he posted caused for her reputation.
With public opinion of women changing, many started to blast Jonas instead. Stacie Boschma, who has a podcast called "Trashy Divorces" with her wife, Alicia Minyz, believes Jonas' statements have made him "absolutely terrible." Jonas may feel that the pressure of public opinion changes, as he addressed the fans at a concert by saying, "It's been a tough week" and "If you don't hear it from these lips, don't believe it." According to a TMZ report, multiple sources have said that Jonas was "less than supportive" of Turner, who was struggling with postpartum. It is alleged that Jonas would force Turner to attend multiple events that she didn't want to be at, one even where multiple sources heard her stating she was uncomfortable being there. 
How did this couple come to be? Sophie Turner, 20, and Joe Jonas, 27, met in 2016 after Jonas slid into Turner's DMs. Turner told Harper's Bazaar UK they had many mutual friends and that he eventually messaged her "out of the blue." Three years later, in May of 2019, it was reported that they had eloped in Vegas after having a more traditional wedding in late June of 2019. They later welcomed their first daughter in 2020 and second in 2022. Not much else is known about the soon-to-be ex-couple as they like to keep their personal lives private and away from the public.