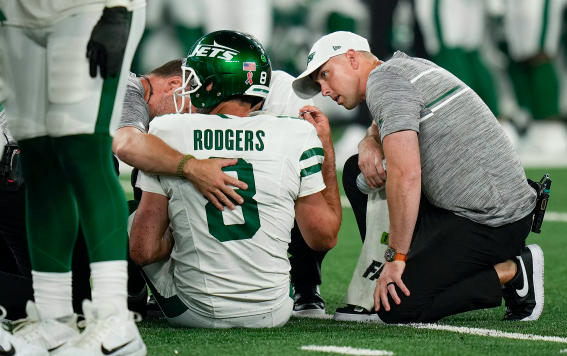 Aaron Rodgers, former Green Bay Packers quarterback, faced difficulty finding a new team for the 2023 season when he became a free agent towards the end of last year. The New York Jets picked up the quarterback on a 1-year contract, presumably his final season in the NFL. Unfortunately, Rodgers' season was cut extremely short when he faced a tragic season-ending injury in Week 1 of the NFL season, 
The Jets went up against the Buffalo Bills on the day of Rodgers' debut with his new team. On only the fourth play, he was carted off the field due to an injury in his left Achilles. Rodgers was sacked by Bills player Leonard Floyd in the first quarter when the torn Achilles tendon occurred.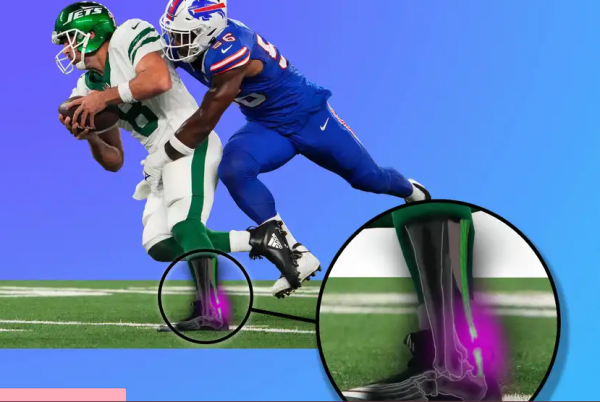 Rodgers underwent an innovative surgery designed to accelerate the recovery process. An internal brace, an Achilles speed bridge, was placed in his left Achilles tendon. This process is said to help an athlete recover from serious injury in at least four months. It is also a possibility that Rodgers will receive platelet-rich plasma injections as well to speed his recovery further. 
Hopeful for a quick and easy recovery, Rodgers confidently stated: "I have some odds stacked against me based on age, but I like it. Stack all the odds up against me and see what happens." 
The concern has led to questioning if the artificial turf could have played a part in Rodgers' injury. While Rodgers attempted to spin away from Floyd, his leg was planted in the turf when his Achilles was torn. Although it is unlikely to be the overall cause of his injury, playing on grass has been known to have a lower risk of injury than playing on turf. Two days after the injury, the NFLPA attempted to convince the league to convert the fields to natural grass. This topic has been an ongoing issue in the NFL. In April, at the end of last season, a study proved that natural grass is much safer for players. The NFLPA union president, J.C. Tretter, had said during the study that "the fact remains that the players… had to play on a field that the league acknowledges was not safe. That is beyond frustrating to players and unacceptable in the eyes of our union." Rodgers' injury is bringing up the issue once again.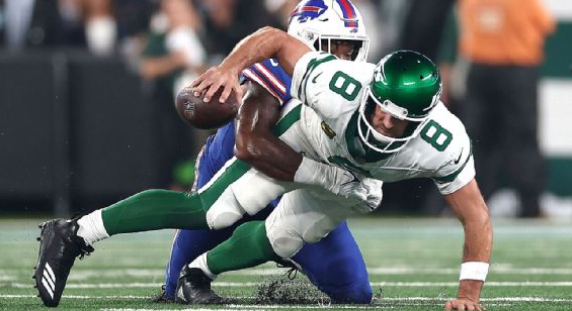 Aaron Rodgers' stats at the end of the 2022 regular season consisted of 3,695 passing yards and 94 rushing yards. While he did pass 26 touchdowns throughout the last season, he was sacked 32 times. Rodgers averaged 6.8 yards per pass attempt and had 350 completions. Rodgers believes with a speedy recovery, there might be a chance of him returning for the post-season, given the Jets make it that far.
Until then, Zach Wilson will take over as the Jets starting quarterback for the remainder of the season.