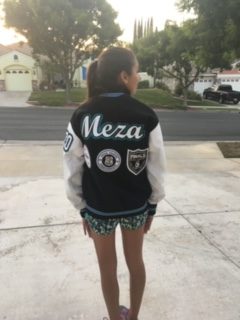 Katelyn Meza (12) is an admirable person contributing towards athletics, specifically track and cross-country, to which she has participated for high school all four years as well as three years in club running. People are able to trust, depend, and rely on her when in need of someone to empathize and reflect their struggles with.
When she isn't juggling both school and practices within her hectic routine, Katelyn relieves her stress by being surrounded by her friends and her pets (two dogs and a cat), as well as cherishing her favorite movie,
Napoleon Dynamite
. "Give me some of your tots!" (
Napoleon Dynamite 
2004)
Although she feels anxious towards school, she believes that being in both language arts as well as journalism will greatly contribute towards her dream of becoming a successful screenwriter.
Katelyn Meza, News Editor
Mar 09, 2020

Parasite: An Oscar-Worthy Winner

(Story)

Feb 19, 2020

Keeping Santiago's Locker Rooms Open After School

(Story)

Nov 21, 2019

Corona Fire Department will now be collecting donations for the Spark of Love Toy Drive

(Story)

Nov 06, 2019

We should be cautious about the "OKAY" hand gesture—but not jump to conclusions

(Story)

Nov 06, 2019

The 2-hour time barrier for the marathon is broken

(Story)

Sep 19, 2019

Greenpeace activists suspend themselves from Houston bridge to protest fossil fuels

(Story)

Sep 09, 2019

Vaping—We Should Be Worried

(Story)