Mt. Sac Invitational Recap
Coming off Inland Empire Challenge Meet, the Santiago Sharks were all around excellent with their fantastic placements and trophies they received from it. Now they are located in Walnut, California racing at the 74th Mt.Sac Invitational meet.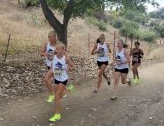 The Santiago freshman lady sharks start off for the team's first race. Kinsley Whitecavage(9), Lauren Reightley(9), Jaela Jaffe(9), and Julia White (9) all took the top four finish placements in this race, while also adding on top they helped their team get 1st place overall in this race. Kinsley Whitecavage(9) led the whole pack throughout the race, so she gave us some insight into how her emotions were throughout the race. "I knew the course was going to be tough from the start but I couldn't let that get to me so I just ran my race. On every hill, I felt like I was walking but I just pushed harder, once I made it to the top the downhills felt so good. It was a real mental game for the rest of the race." She was really determined to run this course even under the circumstances of what she had to battle amongst the race. Which really shows the commitment being made toward her personal running effort. Heading over to the sophomore lady sharks, we had Mylee Madrid(10) and Brooklyn Earle(10) lead the girls throughout this race. Mylee Madrid(10) ended up placing 10th overall and Brooklyn Earle (10) 16th overall. These two girls help contribute these points towards the team getting 2nd overall for the team's placement. Taylor Aguinaldo (12) was able to position herself in 3rd place amongst 117 other runners in this race. Overall the girl's side of the team is contributing their effort towards the race and believed that all the hard work being put into practice was going to pay off on a course like this.
Now heading over to the boy's side of the team, we had a single shark in the varsity race. Nebiu Elias (12) ran for his team during this race and finalized his placement getting 7th place out of 135 runners. Even though the team didn't get a whole overall placement in this race, he still represented the team very well. The freshman boys were up next, the freshman to represent his squad is Jackson Cunanan(9) and finalizing his placement in 2nd out of 175 runners. Post-race he gave us a little insight on how he felt after running on this course for the first time: "This actually wasn't the first time that I had raced at Mt. SAC, but it was the first time I had run the whole course for a race. To be honest the race felt quite easy to me because I had known the course very well from practicing there and I believe that's what made getting 2nd overall out of 175 people possible. Being in this position feels very good, knowing I can only improve at Mt. SAC and improve my running capabilities." Not only is Jackson Cunanan just a freshman but the traits he is building up now will carry over into his sophomore season. With the help of his team, they ended up placing 9th out of seventeen schools. With the freshman, race being counted for it was time to cover the dynamic sophomore squad. This sophomore squad consisted of Brandon Fonseca (10), Jett Blake (10), and Alijah Cox (10). All these guys dominated the course and finalized their placements for 1st, 5th, and 9th out of 204 runners. They ended up helping the team get 1st place overall in the sophomore section. With the last race of the day for the Santiago XC squad, we have the JV boys to close it out. Ryan Chavez (12), Shabach Karachi (12), and Kyle Sheehan (12) all finished in a 1,2,3 combo. After the race, we of course had to talk to Ryan Chavez (12) the leader of this 1,2,3 combo. He explained that" It was absolutely incredible to get to run this course for the fourth time and finally experience a win there. M.T. Sac always brings out a strong field of athletes so it was amazing to run alongside all of them. Being able to work together with my teammates and push through the hills was something I'll never forget. I owe it all to them because I would not have been able to win this race without having them there to push me." Seeing this message really sets the stone for the last invitational race of his high school running career. It also shows the true definition of what going out with a bang means.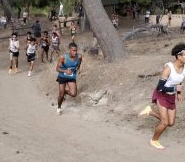 Once all the races were finished, I had the chance once again to talk to the head coach of the team Coach E about his team's overall performance. "Very proud of the work they put in!  The race results are evidence of just how good this team is!  Girls and boys performed extremely well and going into CIF we will be ready for the bigger races." This means he is really proud of the work that paid off for his team all season long. 
With the Mt.Sac Invitational already set in stone for the books, it's now time for the last race of the season. And see who is that lucky top seven that will run at CIF.