League Meet Finals Recap
With the last meet underway for the season, it is heavily anticipated that things will get super competitive on who wants to be a part of the top seven CIF squad. Since they won the league last year, they will certainly want to certify themselves as league champions again this year. So they can officially call themselves "Back-to-Back League Champions". Now with everything explained it is time to cover the race results from all four races.
The Junior Varsity lady sharks started the race by completely annihilating their competition since they earned the least amount of points and finished 1st place overall. They all completed the course as the top 9 runners in this race. The 1st place finisher was Jaela Jaffe(9), 2nd place Mylie Madrid (10), 3rd place Grace Alwardt (12), 4th place Julia White (9), 5th place Taylor Aguinaldo (12), 6th place Josselyn Palacios (11), 7th place Kate Lee (9),  8th place Makenna Rezner (9), and 9th place Emily Cuevas (9).  All these ladies helped sink their competition, so they would end up claiming their victory moment.
Moving on to the Junior Varsity boys, they exceeded their finishing results for this race. The person to close this race out and punch himself a ticket to be on the CIF squad was the sensational sophomore, Jett Blake. He has come a long way this season from battling injuries and climbing the ranks to earn his top spot back on the team. After his race he gave me his thoughts about how he was feeling about advancing to the next round: " Well finishing out the regular season with a win felt great as I hadn't been able to win a race before and to add on to me getting a CIF spot is a blessing. I know it'll be hard but I'll fight for my team." It is guaranteed that he will be ready for any upcoming obstacle to come a long way heading toward the state meet. To add to the plate of great news these boys also finished first place overall out of all the schools in their race. 
With two races covered we are at the middle point marker in this meet and the Santiago Varsity girls came with the mentality of giving 110% effort during this race. Audrey Buckley (10) secured the 1st place finishing moment for the team and helped contribute towards her team by getting first place overall in this race. Just a couple of spots behind Audrey Buckley (10) we had Kendal Lee (12) finishing in 4th place, Taylor Davis (9) finishing in 5th place, and Kinsley Whitecavage (9) in 6th place.
To close out the meet with the last race, we had the varsity boys come out to set the finishing touches for the meet. Van Filek (12) won the race finally naming himself the boy's varsity 3 miler champion and told us about his thoughts on this race. Van Filek: "It's nice to know all of my hard work is paying off. It's always been a dream of mine to be league champ, and to finally pull it off after 4 years is nice." Seeing Van Filek proud of the work he put into practice and the positive results during his race is a heart-filled moment. 
With all four races officially completed the Santiago XC team can officially say their Back-to-Back League Champions. Seeing the results all throughout the season from this team is really an honor worth viewing. Some of these guys and girls on the team went from injury setbacks, breaking personal records, and even a couple of school records being broken. 
The head coach told us how he felt about the team's sweep in all the races they competed in and a couple of solutions being created for some problems. Ricardo Ethridge: "I feel really good that we were able to win the big 8 back to back years in a row.  The big 8 is very tough but we have reached a level in our training and racing that is a step above.  Our girls won with our number 1 runner going down before the first mile and Audrey Buckley just a 10th grader wound up winning the race for our team to take the victory.  Our guys won but were losing through 2 miles to Martin Luther King.  We had to rally the last mile in order to overcome their pressure in the first 2 miles.  I am very pleased and so far this season has been the best yet and looks very promising for CIF.  I fully expect both boys and girls to make it to the state this year.  Go Sharks!"  He is surely excited to train the top seven boys and girls for the CIF squad while helping them elevate to the state championship meet.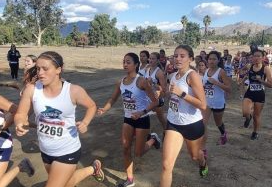 With everything covered it is now time for Van Filek (12), Dylan DeLoyola (12), Antonio Olmos (11), Jace Lay (10), Matthew Wakefield (12), Jett Blake (10), Alijah Cox (10), Rylee Blade (10), Audrey Buckley (10), Kendal Lee (12), Kinsley Whitecavage (9), Taylor Davis (9), Lauren Reightley (9), and Mylie Madrid (9) to get prepared for CIF prelims. All fourteen of these guys are heading back over to the Mt.Sac Invitational course to run at.