Milo Ventimiglia, famously known as Jess Mariano from the beloved Gilmore Girls series, married model Jarah Mariano in secret earlier this year. Gilmore Girls fans could argue this is a "match made in heaven" as her last name is the same as his character who never got married to the love of his life in the show. Milo has been known to keep his life full of mystery as he likes people to see the characters he plays more than the person playing them. 
Milo and Jarah's relationship surfaced in 2022 when @johannacyn posted a story of the Couple on Instagram, captioning it "welcome to the hood @jaharm + mi," implying the two had moved into the neighborhood together. Most, if not all, of their relationship has always been private and away from the eyes of the public.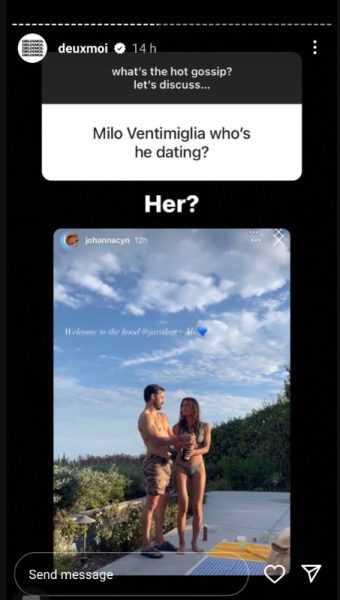 Both Jarah and Milo have successful careers. Jarah is known for her fragrance brand Hina + Kū Hawaiʻi and modeling, and Milo for his acting. 
US Weekly was the first to report on the incident. The wedding was planned by "Troy Williams of Simply Troy," People Magazine. Not much is known about the event besides the pictures posted by US Weekly. The news itself was released later on as the event itself happened earlier this year. 
Milo keeps his life as private as possible to not let his personal life sink into the men he plays. As professional as he is, it leaves very little for the fans of his work to go for. Hearts around the world have indefinitely been broken by their first crush, Jess, getting married, but Mariano adds an invisible string that makes it easier to accept it.
Stealing hearts worldwide, Jess Mariano was every teenage girl's crush. One of his famous lines, "Why did you drop out of Yale?" still lingers around to this day. He has made a lasting impact on so many people around the world. He is also known for his role in the TV series This Is Us. He's won "The Screen Actors Guild Award for Outstanding Performance by a Cast in a Drama Series," The Hasty Pudding Man of the Year," and the "Teen Choice Award for Choice Action TV Actor." 
Jarah Mariano herself has also been in several movies, including Minority Report (starring Tom Cruise), The Girl from Monday, and Rescue Me. She was discovered as a model at 15 and is best known as a model. She has also made appearances in a couple of music videos "including JAY-Z's "Show Me What You Got," People Magazine. She was born in Hawaii and raised in California. She is an adventurous soul who loves surfing, "wakeboarding, skiing, playing tennis and doing yoga, among other activities," People Magazine. 
Will this be Hollywood's new It Couple? Will we learn more about their relationship and lives? Only time will tell.