Second Canyon Fire in Anaheim
Hang on for a minute...we're trying to find some more stories you might like.
The Canyon Fire burned over nearly 9,217 acres, with 25 structures destroyed and 53 damaged; the fire was at 90% containment as of October 15th. The Canyon Fire 2 broke out on Monday, October 9th, with only 5% containment at the time, forcing evacuations in Anaheim East Hills. Thankfully, no one was severely injured.
Anaheim began mandatory evacuations on October 9th through 10th of those east of Serrano, north of Nohl Ranch, and anyone south of 91 freeway and west of 241 freeway. City of Orange had mandatory evacuations in Orange Park Acres, Santiago Canyon Road east of Cannon. As well as the City of Tustin with mandatory evacuations in Jamboree and Tustin Ranch Road (north of Pioneer).
High winds on Tuesday, October 10th, allowed firefighters to gain only 5% containment. At 7 am on the 10th, 1,100 firefighters, 14 helicopters and 6 planes worked on the fire. The 241 was shut down entirely and only one eastbound lane was open on the 91. On the 11th, at 7:45 am, containment grew to 45% over 8,000 acres, with 1,660 firefighters, 255 engines, 34 hand crews, 13 helicopters, 5 air tankers and bulldozers. Anaheim had estimated 13 homes were destroyed by the 11th. After the 11th, containment when up significantly, 65% on the 13th, 75% on the 14th, and by the 15th there was 90% containment.
As of the 15th, the city of Anaheim had full faith of their containment levels and despite the dry heat, saw positive signs for total containment. All evacuees were clear to go back to their homes on the 10th. Residents near fire zones were warned and had periodic updates about the fire. According to Anaheim's official website, they projected that they would have full containment on the 17th. On October 16th, assistance for information on recovery services was opened at East Anaheim Gymnasium.
Emergency plans are encouraged to be made and practiced to ensure safety for our families and loved ones. Great sympathy and help are also given out to all those who suffered from damages.

About the Writer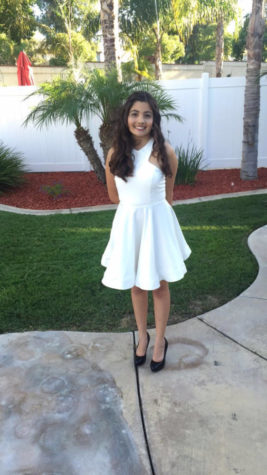 Linsey Becerra, Staff Writer
Linsey Becerra (12) is a first-year writer for the shark attack. When I'm not obsessively reading and writing or doing homework, I am spending time with friends and family, hiking and baking.