Ringing in the Lunar New Year
Hang on for a minute...we're trying to find some more stories you might like.
Chúc mừng năm mới! Or, to put it in English, Happy New Year! Although this well-wishing for the new year may be a bit late for Americans, it's not too late for Asians!
The Lunar New Year ("Tet" in Vietnamese), is one of the most festive celebrations in this culture. Groups of people gather together to coordinate vibrant festivals full of dancing, food, and lights, to ring in the new year.
A child to two Vietnamese parents, I have been able to celebrate this amazing tradition every year since I was born. There has always been the beautiful ao dai, dragon/lion dances (Mua Lan), the same cheerful songs being played in every Vietnamese restaurant, and the exploding sound of firecrackers and poppers that never fail to bring smiles annually.
So exactly why is the Lunar New Year on a different date than American New Year? The answer to that question is quite simple: the two New Years are based on different calendars. America's New Year goes on a solar calendar, while the Lunar New Year relies on a lunar calendar.
In the Lunar New Year, each year is based off one of the twelve zodiac animals. This year happens to be the year of the dog, which symbolizes loyalty and honesty.
Despite each new year constantly changing their zodiac animals, there are several constants in the Lunar New Year.
One such constant in the Lunar New Year is almost every child's favorite part of the celebrations: the traditional li xi. Li xi are red envelopes given to children by their numerous relatives and parents, usually with money or lotto tickets in them. Traditionally, to receive one, you must greet the giver properly, giving them well wishes in the native tongue, before receiving your envelope. Many popular li xi designs include cherry blossoms, Chinese script, and the zodiac animal of that year. 
Another constant in every new year is the traditional dress. Vietnamese people wear ao dai, which means 'long dress.' The outfit consists of a long, decorated gown, with a pair of silk pants underneath. The dress of the ao dai can be made of lace, silk, or any kind of fabric, and can be for any age and gender. Men can be seen wearing shortened, blue, red, or gold ao dai, with intricate designs of dragons, phoenixes, lions, or Chinese symbols. Women's ao dai are typically decorated with flowers, glitter, and any signs of nature.
Another common sight during this time of year are the decorations, such as yellow blossoms called hoa mai and hanging lanterns. Hoa mais are a beautiful constant in the new year and represent luck, life, resilience, and wealth. Hanging lanterns, a symbol traditionally seen in the Chinese tradition, has been adopted into the Vietnamese tradition as well. They are usually made of thick paper and have either a light-bulb or a lit flame inside.
Firecrackers and poppers are one of the favorite toys among children. The poppers are little solid boxes containing papers wrapped in gunpowder and are usually the size of little candies. When thrown at the ground, they make a "pop" sound and explode. Firecrackers, on the other hand, are bright red and hung from rafters. When set off, they unleash an ongoing crackling sound as well as clouds of smoke. 
Finally, there are the biggest and the most common sights during a New Year's festival: Mua Lan (Lion Dances). These dances are performed by men hidden underneath large lion puppets and are followed by gongs and drums. They travel through the streets, doing tricks for their audiences and searching for li xi, which are usually given to them by children and adults alike or hung above shops for good luck.
Today, Lunar New Year isn't just celebrated by Asians. People of all race and culture are able to go out and celebrate as one of the many festivals held in Asian communities. Some well-known festivals are the parade and festival in Westminster, which goes on for at least two weeks, and the biggest known festival in Southern California, in Orange County.
The Lunar New Year is truly an amazing experience and should be shared with all people around the world.

About the Writer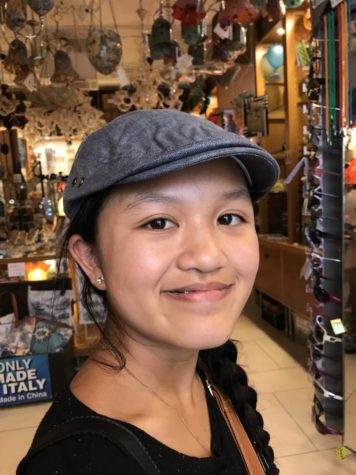 Paulina Bui, Student Writer
Paulina Bui (9) is a freshman writer for the Shark Attack paper. She is a fangirl who lives in fandoms and has fictional character baes. She loves to read,...