Major Stephen Del Bagno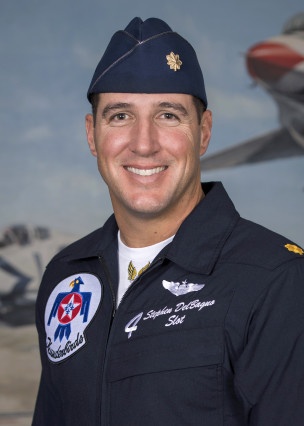 Hang on for a minute...we're trying to find some more stories you might like.
Thirty-four-year-old Major Stephen Del Bagno, one of the members on the famous Thunderbirds team, has passed away at 10:30 A.M. after a mishap occurring during one of there routine practice aerial demonstration flights. During this routine, the fourth F-16 in the line went down over Nellis Air Force Base.
Major Stephen Del Bango proved to be a great asset to the team during his first season as number 4 pilot on the team. Del Bango started his carrier in the Air Force shortly after graduating Utah Valley State University in 2005. He enrolled into Officer Training School at Maxwell Air Force Base and soon graduated from there in 2007.
As a civilian Del Bango served as a civilian flight instructor, corporate pilot, skywriter and a banner tow pilot before he spent time in the Air Force. One in the Air Force he served as an F-35A evaluator pilot chief with the 58th Fighter Squadron before joining the Thunderbirds. According to the Thunderbirds website, Del Bango had over 3,500 total flight hours in 30 different aircraft.
Del Bango was the first F-35 pilot to serve in the Thunderbirds. In June 2017 a release announcement by Nellis revealed the newly-added members of the 2018 Thunderbirds team, Del Bango being put as the Thunderbirds' slot pilot. Del Bango flew behind the teams No. 1 aircraft between the lead aircrafts wingmen to form the famous diamond formation.
The excitement of becoming a full-fledged member of the team was evident during a video documenting Del Bango receiving the team's red flight helmet on January 30, 2018. Reality hit Del Bango during his first flight. "Once you don that red helmet, it means you no longer have your instructor in the back seat" stated during one of the many interviews taken after the news of him joining the team was dropped.
The death of Major Stephen Del Bango brought a halt to the team's demonstration at March Air Force Base's recent airshow. "We are mourning the loss of Maj. Del Bango. He was an integral part of the team, and our hearts are heavy with his loss. We ask everyone to provide his family and friends the space to heal during this difficult time" Brig. Gen. Jeannie Leavitt, commander of the 57th Nellis Air Force Base wing stated in a release.