Trump Punishes Syria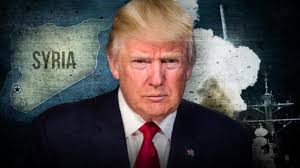 Hang on for a minute...we're trying to find some more stories you might like.
Did you know there is a war going on in Syria? I didn't, and many other US citizens do not. However, everyone should have knowledge of this war considering the US  became involved in it. On April 7th, Syrian President Bashar al-Assad used chemical infused weapons on their own citizens. Around 40 people died and a numerous amount of others were injured. Since the start of the war, Assad has used chemical weapons on his own people over 200 times. Why is he doing this? An expert who studies war believes Assad is using the method of siege, starve, and surrender. Images of these attacks have surfaced the internet, but many people are not paying attention to the real problem.
Trump has had enough of the pointless murders of innocent people in Syria, so he finally took action for the second time. Last year Trump had sent missiles to Syria after a chemical attack, but this did not make a big difference. Trump also sent missiles in response to the April 7th attack of this year. Many people do not understand why Trump is causing more damage, but he explains that this is a form of punishment. His main goal is to slow down the use of chemical weapons, but he knows there is not much he can do to help. Trump would also like to remove the US troops that are currently in Syria so that they can fight ISIS.
Do you think Trump made a smart move sending missiles to Syria, or do you think he is only making matters worse?

About the Writer
Gabby Puerner, Writer
Gabby Puerner (9) is a freshman at Santiago High School, so this is her first year as a writer for the Shark Attack. When she is not writing, she is...