Donatella Versace Marks the Beginning of a New Era: Fur is Over
Hang on for a minute...we're trying to find some more stories you might like.
The high fashion Industry is famous for exploiting animals, people's religion, and cultures as well as many other negative aspects. Currently, however, animal exploitation and cruelty will be reduced in the industry due to Donatella Versace's revolutionary statement. On March 14 of 2018, Donatella Versace happily stated in an interview with 1843, "Fur? I am out of that. I don't want to kill animals to make fashion. It doesn't feel right." There are still some discrepancies considering there are real fur clothing pieces and accessories still up for sale on Versace.com. Therefore, Versace's statement is most clearly interpreted as saying she won't create fur products again but she can't necessarily take back what is already done. As well, if a designer says they won't produce fur pieces, doesn't mean they won't wear it. This is prevalent in the prestigious society of fashion, celebrities, and even music artists like Rihanna: who is the creator of makeup and fashion brand Fenty, which doesn't test on animals, but Rihanna can be seen wearing fur on multiple occasions. This is a trend in fashion that is repeated over and over and can be frustrating for followers and fans of the designer to still trust what they say. Still, it is the fact of Donatella Versace taking a stand for her brand and admitting it is not worth torturing and killing animals for fashion. Hopefully, now, many other runway designers will join the positive trend to the end of animal exploitation. Donatella Versace isn't the first to say no more real fur but is deemed relevant because of Versace's height of wealth and influence in the fashion community. Michael Kors, Tommy Hilfiger, Hugo Boss, and Giorgio Armani are some recent anti-fur designers which decided to join animal rights activist Stella McCartney, who is an all vegan designer.
Last fall at London Fashion Week, animal rights activists haunted individuals' morality by discouraging people dressed in street style clothing accompanied by real animal fur. The uproar of the significance of animal rights has led to a steady decline of the production of fur in the industry. While fur was an iconic piece of fashion for decades, designers are finally coming to the realization that harming animals isn't necessary for the sake of fashion.

About the Writer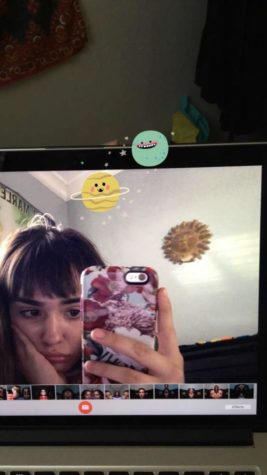 Christina Suarez, staff writer
Christina(12)is 17 years old, loves nature, clothes & old things.  She enjoys thrifting, reading, and spending time with people close to her in her...