Gaza Protest Ends in Bloodshed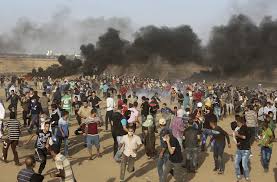 Hang on for a minute...we're trying to find some more stories you might like.
On Monday, May 14, 58 Palestinians were murdered and 2,700 plus were wounded. The Israeli army fired live ammunition, tear gas bombs, and firebombs at the Palestinians who were protesting by the fence with Israel. Protests began on March 30, and since then, 107 plus Palestinians were killed by Israeli forces and 12,000 were wounded. Not long ago, Trump recognized Jerusalem as Israel's capitol, which started an uproar with the Palestinians, who have had their rights ripped away from them. Jerusalem being identified as Israel's capitol and the oppression the Palestinians face were one of the main reasons behind the protests going on.
The Israeli state was founded on May 15, 1948, in a violent campaign which ended with the expulsion of hundreds of thousands of Palestinians from their villages, my grandfather one of them.
The Turkish President Recep Tayyip Erdogan accuses Israel of "state terror" and "genocide" and stated that "Israel is wreaking state terror" and that "Israel is a terror state". Erdogan even cut all ties with the state of Israel.
Raj Shah, a White House spokesman, accused the Hamas' leaders of making a "gruesome and unfortunate propaganda attempt". Yusef Munayyer, Executive Director of the U.S. Campaign for Palestinian Rights, shares his thoughts on the blame being put on Hamas. "'Unfortunately Israelis think that you can shoot protestors on video and just scream Hamas at that and suddenly that becomes okay. Unfortunately, that is not how it works. We have seen lots of documented evidence on video of Palestinian protestors who were being shot when they were in no way posing any imminent threat to life – to anyone on the other side of the fence"' (Yusef Munayyer).
Palestinians weren't the only ones brutally murdered. A journalist was murdered as well, as it showed in a documented video. Flags of Palestine were ripped from the hands of protestors by Israeli police. Two Palestinian men were beaten up by Israeli police and then arrested afterward.
"Demonstrators allow citizens to voice their opinions and to have an influence on society. The right to demonstrate and to protest is part and parcel of the right to freedom of expression, and it is entrenched in international humans rights law" (The International Covenant on Civil and Political Rights).

About the Writer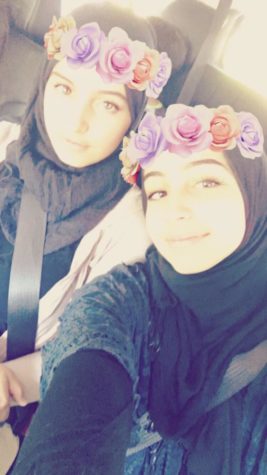 Fatimah Dibas, Staff Writer
Fatimah Dibas (9), is a freshman at SHS and you'll almost always see her reading, eating or both. This is her first year as a writer for the Shark Attack...