The Beauty Behind the Book: Shanelle Huynh
Hang on for a minute...we're trying to find some more stories you might like.
As the students excitedly flip through their yearbooks, they reminisce on all the thrilling memories of the 2017-2018 school year. Many years from now, these pages will serve as nostalgic snapshots of sports games, rallies, dances, and other memorable events this year had to offer. However, for the talented yearbook staff here at Santiago High School, the book represents a year full of hard work, shared creativity, immense stress, and ultimately, exceptional pride for the physical production of such a sentimental keepsake that students will value for the rest of their lives. I sat down with Shanelle Huynh, Editor-in-Chief, to gain a better insight into what actually goes into the making of the famous Santiago yearbook and discuss her position as editor.
What do your duties as yearbook editor entail?
"Become Editor-in-Chief this year has been a great learning experience for me. I got to be in charge of creating this year's theme and choosing how to carry it out throughout the whole book, starting with the cover. I helped decide a lot of little details like what color scheme, fonts, and graphics to use for the book- all of the things that it would take too long for the class to reach a consensus upon, I'm in charge of. Besides my personal responsibilities, I have to focus on working with the other editors and leading my staff. I delegate assignments and tasks then check regularly to make sure everything is completed and time and running smoothly."
What are you most excited about in this year's yearbook?
"There is so much to be excited about in this year's yearbook, but my personal favorite is the theme: "Make It Yours." To fully incorporate this theme, we've added many more individual quotes and pictures into the book to increase the number of people covered in it and make everyone feel like they have a place in it. We've also placed a spot on the bottom left side of every student life page for the owner of the book to fill in or draw or tape a picture to. These spots offer a nostalgic sense for those "Coke or Pepsi" and "Wreck It Journal" books we used to pass around and fill out as kids. They allow the owner of that specific book to truly focus on their own personal memories and thus, make it theirs."
Can you tell us a little bit about the process of creating the yearbook?
"The process of creating the yearbook is quite a lengthy one. It starts the summer before school starts at a Yearbook Camp that editors go to and goes until all the yearbooks have been passed out. At camp, editors begin brainstorming ideas for themes and designs etc. Then once school starts, the Editor-in-Chief creates specific plans for how to realistically carry everything out. The new staff is placed into smaller groups, upon which pages are divided. Each group normally works on multiple modules or pages at a time, with topics ranging anywhere from student life to sports. Once the staff completes these pages, editors check them then submit them to Ms. Lovejoy who, then, submits them to the Jostens publishing plant. Eventually, once all of these pages get submitted the publishing plant formats our books and ships them back to us. As soon as they arrive, our whole yearbook staff helps to organize them and distribute them ourselves through the Shark Shop."
What is it like taking on such a big leadership position amongst peers your own age?
"It was definitely hard to gain respect at first from students my own age, however, I tried to take it in stride. I focused a lot on leveling with my peers and doing the most I could to help them, rather than bossing them around. Thankfully, all of the staff this year was amazing and hard working, so it was easy to get along once we got into the rhythm of things. I got to get close with many of them and form friendships across different grade levels that will last me even beyond high school. I had to balance this friendship with leadership, but understanding how my peers think and feel helped a lot."
What was the biggest struggle putting the book together?
"One of the biggest struggles is having to cover practically everything and everyone in the time frames we are given. The publishing plant assigns us the multiple deadlines that we must follow. We don't decide them, therefore sometimes the deadline conflicts with what we have to cover. So, for example, one of our groups might have to cover an event and put all the photos of and writing about it on the page that same day. This gets even harder to do when the people we need to interview or photograph are absent that day. It increases the amount of stress within the classroom, but we usually plan well in advance and organize everything to decrease this stress when we can."
What other clubs or activities are you involved in outside of Yearbook?
"I am Vice President of Silver Pen Writer's Society, which is a creative writing club. We meet every Thursday in Mr. Ricio's room where we write in response to a prompt and share our pieces aloud to the club. I am also treasurer and a staff writer for journalism, in which I write articles for the school newspaper, The Shark Attack."
Be sure to pick up your yearbooks at the Shark Shop at both lunches and after school, or buy one starting Thursday, May 24 for $110 cash.
About the Writer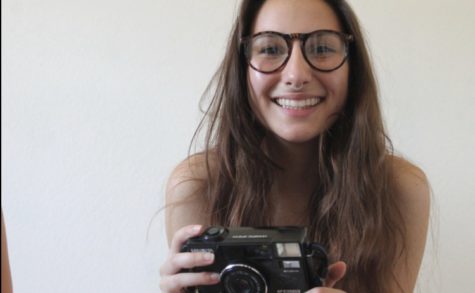 Zoe Liuag, Staff Writer
Zoe Liuag (11) is a first year journalism student that is ecstatic to get the real scoop out to the students, whether the scoop be comedic, serious, informational,...