Technology: The Basis of Social Isolation
Hang on for a minute...we're trying to find some more stories you might like.
Technology has been a prevalent force since the cavemen roamed the Earth – literally. Since then, it has grown alongside society and shaped the world in which we live in today. Technology has allowed us to do and create things we never thought were possible. Electricity, automobiles, and telephones are among the few advancements that play a key role in our daily lives; specifically, our virtual link with one another. Thanks to technology, we have been gifted with the ability to communicate with each other no matter the distance. We have never been more connected, right?
Unfortunately, that is far from the truth. The development of the internet has created a web (no pun intended) that has trapped and tangled us, with the inability to escape. Nowadays, everything revolves around the utilization of the internet and social media. It has been a growing trend and will only continue to expand as the years progress. According to an analysis conducted by researchers at the University of Pittsburgh School of Medicine, young adults in the United States who utilize social media more often than their peers report higher levels of social isolation. Social media has slandered our ability to communicate with each other – no, not through a screen, but a face-to-face interaction.
So, why does an invention designed to connect actually hinder our ability to do that very thing? Technology gives the illusion that you are connected – you have hundreds of followers on Twitter to prove it! Society has led us to feel validated by numbers and have esteem issues when we do not get the attention we crave online. It is a sick and twisted system that is intended to destroy our morale and separate us from one another.
Why is it that more and more children are becoming shy and developing anxiety and depression? According to Mental Health America, "Rates of youth with severe depression increased from 5.9% in 2012 to 8.2% in 2015." Depression can arise from a number of causes, but technology plays a large part in the mental health of younger generations. Each year, more and more children are exposed to technology at a younger age, causing them to develop certain disorders early on. Using social media as a child is toxic and can affect their behavior as they develop. Social media can become addicting; it would be fatal for a child to be addicted to a medium of that caliber. Children who rely heavily on their smartphones to communicate with their peers will acquire poor social skills as they mature.
Concepts of isolation among adults due to technology have been explored within the confines of one of technology's own platforms: film. Ironic, is it not? Media has spiraled out of control to a degree where we need to be reminded of our humanity through the evil itself. An example of technologically-produced isolation is the film Her (2013) directed by Spike Jonze. Her explores modern society's yearning for love and for companionship, so much so that relationships between two humans is not sought after but, rather, relationships with operating systems. These operating systems possess every quality of a person, except for a body. The protagonist, Theodore Twombly, has gone through a difficult divorce and is seeking to eradicate his loneliness. A futuristic Los Angeles setting has developed operating systems that are available for a person during all hours of the day. Theodore acquires, and, falls in love with, an operating system, "Samantha." Theodore's situation seeps with irony; he wants to feel connected to somebody on an emotional level, yet he reaches out to a machine in order to do so. As ludicrous as this concept sounds, this may be where our society is heading. We rarely spend time away from our phones, and we are forgetting how to hold an actual, in-person conversation. When was the last time you talked to someone, face-to-face? I don't mean a simple "Hello" or "What was the homework again?"; what I mean is a meaningful conversation in which ideas were exchanged, or thoughts and feelings were expressed. It seems so simple and easy to converse over text message or social media, but virtual conversations do not hold a candle to the intimacy of real conversations.
Should technology cease to exist in order to stop the phenomenon of isolation? Of course not. Frankly, it is unrealistic to live without technology; everything in life revolves around it, and it will only continue to advance; however, technology should not be mistaken for communication. I mean – it is communication, in a way, but it is communication that is devoid of meaning. Being friends with Aunt Sue on Facebook does not make up for the fact that you only see her once a year. Talking to a classmate online but not saying "hello" to them when you see them in the hallway at school is not friendship. Technology only temporarily provides a feeling of integration and socialness, but it is not a replacement for human interaction. Take small steps to regain the social aspects of your life. Reduce the number of hours you spend on your phone each day. Spend more time outdoors. Talk to friends in person, rather than through apps. Connection and communication are the keys to a happy and healthy lifestyle. One like means nothing when there is a world of interaction waiting for you beyond the screen.

About the Writer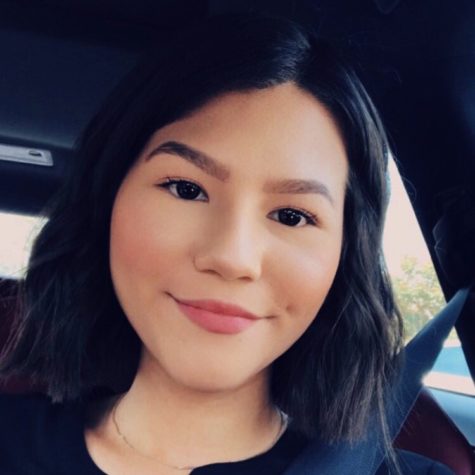 Natalie Mosso, Arts & Entertainment Editor
Natalie Mosso (12) is a senior at Santiago High School and a first year journalism student. She is an avid fan of films, books, and music, and she loves...