Sierra Burgess Is a Loser A Netflix Original – Review
Hang on for a minute...we're trying to find some more stories you might like.
After Netflix came out with two killer romantic comedies, The Kissing Booth and To All the Boys I've Loved Before, teenagers and adults – yes, adults – went crazy for them. Recently, Netflix released yet another brand new rom-com: Sierra Burgess Is a Loser. Will people like it as much as the first two?
The movie starts with a high school student, Sierra Burgess (Shannon Purser).  She is unpopular, bullied, and lacking in self-confidence. The most popular girl at her school, Veronica (Kristine Froseth), is basically out to get her. The drama begins when Veronica gives Jamey (Noah Centineo), a cute jock, Sierra's number instead of her own. He texts Sierra, thinking she is the beloved cheerleader he met earlier, and Sierra decides to go along with it. Their relationship grows, and while they're exchanging texts and calls, Veronica is failing in her academics. With a sudden burst of confidence, Sierra decides to reach out to Veronica and help her with her studies. The two girls get together, and Sierra tutors and helps Veronica understand her assignments. Veronica begins to go on dates with Jamey and FaceTiming him for Sierra in an attempt to not blow Sierra's cover. Throughout all of this, Jamey has no idea any of this is happening. He falls for Veronica's looks and Sierra's words – the beginning of a major problem. Veronica and Sierra begin to form a friendship; however, Sierra loses her old life and forgets who she is. She blows off her best friend, starts going to parties, and ends up hurting Veronica. She is not the only one who changes – Veronica wears less makeup than before and her personality changes. Veronica gradually starts acknowledging Sierra in the halls, then even chooses her over her old friends.
Finding the moral of this story was more difficult than I thought it would be. I think the main focus is self-confidence. If Sierra hadn't struggled with finding self-love, nothing bad would have occurred in the first place. She might not have been 100 percent confident by the end of the movie, but something did change in how she saw herself. I first noticed her opinion of herself changing after Veronica took her to her first high school party. Sierra's turning point happened when her classmates cheered her on as she chugged a drink at a party. I think being accepted by her peers helped her accept herself. After this scene, you see her changing in little ways, then all at once. Another moral of the story is the philosophy of "don't judge a book by its cover." It is cliché, but true. When looking at Veronica one may think, "Oh, she's perfect. She has everything." Her life is more difficult than it may seem on the surface; her dad left, her mom is rude to her, and she struggles in school. Almost every girl struggles with self-confidence. No matter how pretty, smart, athletic, or popular, people have doubts about themselves.
I could not quite decide how I felt about this movie. I loved it for a few reasons, and also hated it for a few reasons. I liked this movie because of the character development. Every character grows and changes. First, we have Veronica, the most popular girl in school. In the beginning, someone like her would have never chosen to befriend Sierra – she actually tries to pull a prank on her. Sierra gains self-confidence but also goes through struggles in an attempt to find herself. Even Veronica's mom changes after being confronted. Sierra Burgess Is a Loser focuses on serious topics and real-life problems. I liked how they didn't try to sugar-coat anything. The movie gave us nothing but raw truth and raw emotions. What I did not like was how out-of-character Sierra seemed when she posted a rude image on Veronica's Instagram. I understand that she was trying to find herself and was confused about everything, but it did not seem like something she would do. Also, I thought it was very unrealistic how Jamey was totally fine with Sierra cat-fishing him. If I were him, I would be upset and disturbed.
Compared to The Kissing Booth and To All the Boys I've Loved Before, Sierra Burgess Is a Loser ranks pretty high. It shows you real life, real emotions, and deserves just as much attention as every other Netflix original.

About the Writer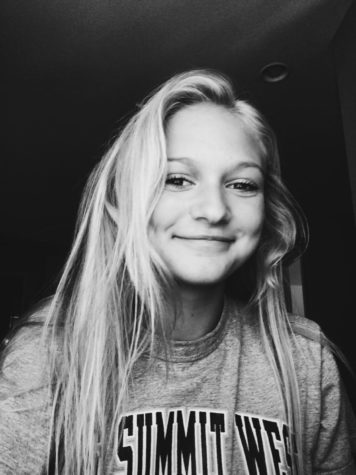 Avery Skinner, Staff Writer
Avery Skinner (9) is a freshman in her first year of journalism who enjoys keeping up with current events, new trends, and anything pop culture. Besides...