'Venom' Review: An Antihero Movie Without a Sting *SPOILER-FREE*
Hang on for a minute...we're trying to find some more stories you might like.
Sony strikes again with another desperate attempt to redeem Spider-Man and his villains with Venom. Prior to the announcement of a feature-length Venom film, Sony had been faced with an overwhelmingly negative response to the Amazing Spider-Man film series, with director Marc Webb's vision of Spider-Man betraying 15-year-old Peter Parker's nerdy, juvenile characteristics. Sony hoped that the Amazing Spider-Man franchise would start up a Spider-Man cinematic universe, but its poor reception caused those plans to get tossed aside. Following the success of Sony's and Marvel's 2017 flick, Spider-Man: Homecoming, Sony, in an attempt to feed off of Spider-Man's popularity, has decided to not only dip their toes in the water, but fully submerge themselves into a pool of Spider-Man spin-offs, with Venom being the film to begin this process.
Unfortunately for Sony, Venom is a dumpster fire. Venom follows Eddie Brock (Tom Hardy), an investigative journalist from San Francisco who tarnishes his career and his love life after an impertinent interview with a scientist and the founder of the Life Foundation, Carlton Drake (Riz Ahmed). Brock impulsively disturbs Drake at his research facility and makes dramatic accusations without hard evidence, which not only gets Brock fired but gets his fiancée, Anne Weying (Michelle Williams), fired from her job as well, causing her to end their engagement. Amidst the chaos occurring in San Francisco, there is a concurrent spaceship landing in Malaysia, which blatantly foreshadows the role Venom will play on earth. These events all occur within the first ten minutes of the movie. Yes, ten minutes!
Despite the first ten minutes being a rushed attempt to jump into the story, the first half of Venom drags in order to "set up" Drake's shallow scientific research. The film finally becomes interesting when Brock breaks into the Life Foundation facility in search of answers, only to accidentally come in contact with a goo that infects him with Venom, a trenchant parasite who acts as a host in Brock's body, giving him a voice in his head and transforming his body into the ultimate fighting machine.
Eddie and Venom's physical bond catalyzes a bizarre "bromance" that is – and I use this term loosely – developed during the rest of the movie. The characters are among Venom's most prevalent issues. Every character is underdeveloped and hardly even feels like one. The titular character is supposed to be a frightening creature who intimidates its audience, but instead, it is the movie's comic relief. Eddie Brock is a dull protagonist with no arc; he remains neutral throughout the movie's duration and does not experience a profound change. His ex-fiancée, Anne, is roped into his drama but adds nothing substantive to an already-lacking story. She is a flat character who only exists to help Hardy's character when he's in trouble. Carlton Drake is a scientist who is hungry for power, and that is the extent of his cookie-cutter character. It is obvious that he is supposed to be the villain, but his motivations are underwhelming and pose no actual threat.
It is difficult to blame the actors for their mediocre performances because they were faced with poor writing and poor directing. Riz Ahmed gives a boring performance as an uninspired villain, with his scenes being among the dullest in the movie. The most enjoyable performance in Venom is Tom Hardy's. Hardy handles an incompetent script by not taking things too seriously. His performance bursts with energy, and he animates his character's bizarreness with goofy facial expressions and offbeat line delivery. Michelle Williams, who has proven herself to be a talented actress in films such as Brokeback Mountain, Blue Valentine, and Manchester by the Sea, is wasted on this mind-numbingly painful experience. She doesn't have an ounce of chemistry with Tom Hardy; their onscreen romance is short, superficial, and unconvincing. Hardy's character somehow has more chemistry with Venom than with his own fiancée, which is where the true heart of the story lies.
The two go from bickering to learning to work together to be best friends – or, perhaps, more – in an attempt to defeat the antagonist; that is all the story can be boiled down to. The plot of Venom is far too simplistic and offers nothing challenging for audiences to chew on. It outlines a basic superhero film premise (a corrupt company must be taken down by a hero so that the world can be saved) with nothing at stake. Venom is a seemingly invincible "hero" who has no limits to its abilities. There are no established rules as to what it can and cannot do; rather, it appears to be a seemingly unstoppable force who can withstand anything, even fire (which is supposed to be one of its weaknesses)! One thing that makes superhero films intriguing is the threat imposed on the hero because it reveals their weaknesses and how they are able to overcome such obstacles. With the threat in Venom being as general as the field of science, there is room for the exploration of stimulating concepts. Apparently, a team of five screenwriters cannot handle such a daunting task. Instead, we are left with half-hearted explanations as to why symbiotes want to take over the earth.
Venom presents itself as confused more than anything. It is a total mess that is unable to comprehend whether it wants to be comedic or dark and action-packed. It is possible to have both (e.g. In Bruges, Shaun of the Dead) rather than having to sacrifice one for the other. Venom appears to have tried to incorporate elements of both Marvel and DC films, taking Marvel's fun banter and combining it with DC's (failed attempts at) grittiness. Its lack of focus made everything from the humor to the edginess feel forced, so much so that, when I saw it in theaters, the audience didn't know when to laugh and when to take the movie seriously. Often times, they laughed at the parts that were not supposed to be funny, but, because of the poor execution, it ended up being more entertaining than the contrived jokes.
As for Venom's technical aspects, the action is dull and uninspired, with a handful of Zack Snyder-esque slow motion sequences. The biggest issue with the action is that it feels as though it was thrown in at the last minute. The action scenes are accompanied by an annoying score composed by Ludwig Goransson (Black Panther, Creed) that adds nothing to the already-dull experience. The editing is kitschy and atrocious, with there being multiple scenes that contain odd cuts and unnecessary J.J. Abrams-inspired lens flares. The special effects were laughably bad. Brock's transformation into Venom looks like a poorly-designed Snapchat filter.
Venom is a colossal disaster that serves no actual purpose other than to set up a sequel and kick-start Sony's spin-off universe. The only other time the Venom character has appeared on-screen is in Sam Raimi's 2007 film Spider-Man 3, in which Topher Grace's Eddie Brock is a nerd who made Venom appear less menacing. Spider-Man 3 is infamously known for being a so-bad-its-good movie that has garnered a cult following on the internet. Director Ruben Fleischer's (Zombieland, Gangster Squad) Venom may also earn cult status based on how it is currently being received by both critics and audiences.
There is a quote in Venom in which Venom, now a host in Brock's body, explains his motivation for wanting to save the world. He says to Brock, "I'm a loser like you." Truth be told that both Eddie Brock and Venom are losers. The biggest loser, however, is this movie.
SCORE: 3/10 (★½ out of 5) 

About the Writer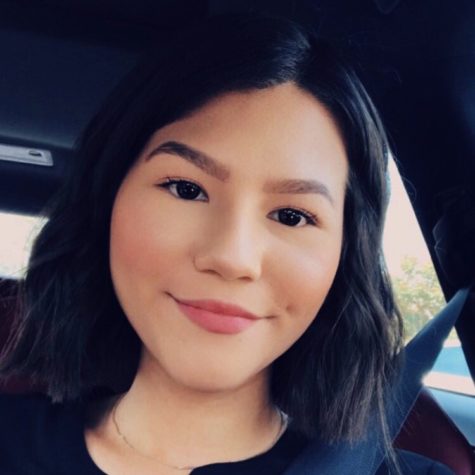 Natalie Mosso, Arts & Entertainment Editor
Natalie Mosso (12) is a senior at Santiago High School and a first year journalism student. She is an avid fan of films, books, and music, and she loves...