America's Adverse Relationship With Food
Hang on for a minute...we're trying to find some more stories you might like.
It's not a secret that Americans are getting progressively unhealthier as the years pass by. From neglecting regular exercise to spending too much time at work or school, America has successfully built its collective image to portray its citizens as lazy, unhealthy, and overall, unaware of their own health. But, what the main factor is that continues to tear down the physical well-being of our collective country is our adverse relationship with food. As it's been highly focused on in recent years, a significant amount of these health problems stem from detrimental eating habits and the prominence of cheaply made food.
According to Dr. Dariush Mozaffarian,  America's "overall diet is still far from optimal – less than one-third of American adults meet guidelines for most foods." America's diet consists of an unhealthy proportion of processed foods that is largely unfavorable to their health, eventually leading to a multitude of illnesses. Processed foods are a common facilitator of chronic diseases like increased cholesterol, obesity, and cancer, according to medicalnewstoday.com. Also, the schedule of eating most Americans follow does not capitalize on the patterns of human metabolism. An old-fashioned saying recommended "Breakfast like a king, lunch like a queen, and dinner like a pauper." However, many Americans tend to skip breakfast altogether, rushing out of the house to school or work. This keeps one's metabolism from stimulating and throws off digestion for the rest of the day, and eventually can lead to obesity. Lunch often becomes the first meal of the day at some point in the afternoon. Dinners in America wind up being the biggest meals of the day, nonstrategic to maintaining a healthy weight since there's less consumption of calories between dinner and going to bed. As the old adage suggests, breakfast should be the biggest meal, in order to fuel the rest of the day, followed by a medium sized, satisfying lunch, and concluding the day with a smaller dinner. Many Americans engage in binge eating later at night, which leads to the storage of extra calories in the form of fats over nighttime. Over-consumption of sugar is also a major issue in Americans' diets. It's not the beneficial fructose appearing in whole fruits, but the added sugars in soft drinks and junk foods. The World Health Organization estimates the daily intake of sugar one should be around 25 grams. However, one can of Coca-Cola alone constitutes 39 grams of sugar. And seeing as, per capita, each American consumes about 403 Coke products a year, equaling approximately 15,717 total grams of sugar a year, this results in a staggering 6,592 grams of sugar over the recommended consumption a year, from simply soft drinks. To factor in the numerous other unhealthy snacks prevalent in American diets would only lead to pathetic statistics.
Cheap food is all around us, in every various cultural cuisine to satisfy every craving one could endure. Fast-food joints mass-produce the staples of the American diet, often overflowing in sodium and cholesterol. The abundance of such foods in American society leads to its citizens being tempted to make unhealthy decisions when a McDonald's or Chick-Fil-A resides on every corner. Because the annual fast-food industry revenue sits at $110 billion, America's dependency on fast-food is a factor contributing to our economic status, as well as the "McDonaldization" the rest of the world has seen as the chain spreads to unforeseen heights. It's quick and cheap, so there's very little motive to change convenient habits by slaving in the kitchen for hours to make a home-cooked meal. With the busy lives many working Americans lead, sometimes there just aren't enough hours in a day to accommodate a full day's work and carefully prepared meals. And while busy days can call for an acclimation to such circumstances through the convenience of a quick burger or taco at a nearby chain, more effort and intention must be put into personal health and food choices in order to create a nation more concentrated on health than economic benefits.
In conclusion, to reverse our national image of ailing individuals each on the brink of morbid health risks, more deliberate actions must be taken in terms of eating habits and choices based on consistent convenience. This would reduce the excessive intake of sugar, sodium, and cholesterol by the average American, and lead to a significant decrease in the chronic health problems that accompany such habits. By making these straightforward and relatively doable changes that only take some consciousness and discipline, we can create a more intentional national image and help raise future generations to do the same.

About the Writer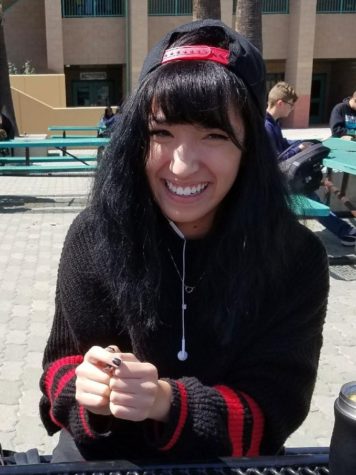 Naomi Boodhoo, Staff Writer
Naomi Boodhoo (11) is a junior, and this is her second year reporting. Outside of her four AP classes, Naomi loves to spend her days participating in theatre,...