Suncity: Khalid's New EP
Hang on for a minute...we're trying to find some more stories you might like.
Calling all American Teens: Khalid has released a new EP titled Suncity. This is his second project, and although it was released on October 19th, it has already achieved mass global success. The EP has seven songs, totaling to a twenty-one minute run time.
Khalid released his first album titled American Teen while still in his senior year of high school. The pre-released single "Location" peaked at the sixteenth spot on the Billboard Hot 100 chart. The album was released on March 3, 2017. It only took seven months after it was released to be certified platinum by the Recording Industry Association of America. This past August, it was certified double platinum. The album received a Grammy nomination for Best Urban Contemporary Album, and the single "Location" was nominated for a Grammy for Best R&B Song.
For a twenty-year-old, Khalid is wise beyond his years, the definition of an old soul. His music style encompasses R&B and Soul. His lyrical range is beyond most artists of our generation; one song can make you jump up and throw a mini dance party, but the next can have you reaching for some tissues and staring out your window. His songs are perfect for any occasion, like driving down a highway with your windows down or sitting in your room on a rainy day drinking a cup of your favorite hot beverage. His songs serenade you, and the soft beats he uses to accompany his voice help you feel like he's performing a private concert ten feet in front of you.
Because of his insurmountable talent, he has collaborated with some of music's' biggest names: Logic, Marshmallow, 6lack, Billie Eilis, and Calvin Harris, just to name a few. According to Spotify, Khalid has an average of 43,233,436 monthly listeners. Whether he is interacting with fans over social media or holding unplanned pop-up concerts around the country, he always makes sure his fans are his first priority. Because of his youth, fans can relate to what he sings about: the happiness of teen years, the joy of falling in love, and the devastation of heartbreak.
Khalid's new EP has a more mature feeling to it. Compared to American Teen, Khalid seems to step away from his typical R&B style and mix some pop into it. With Khalid's angelic voice and the acoustic guitar licks or piano chords to aid his storytelling, the EP is already working its way up the charts. Following the EP's release, Khalid tweeted that this project would be the "start of a new era." Khalid is currently back in the studio working on his follow up album to American Teen, which is set to be released early 2019.

About the Writer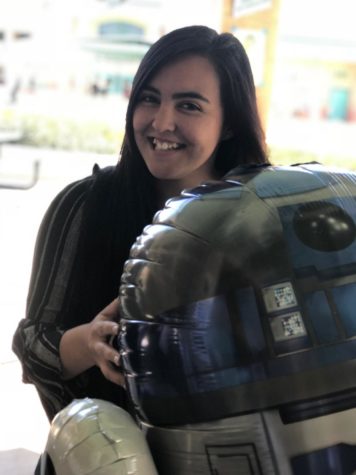 Sierra Flessel, Staff Writer
Sierra Flessel (11) is a junior and it's her first year in the Journalism family. When she's not stressing over school and trying to maintain somewhat...