Santiago Wins First CIF Football Game in a Huge Way
Hang on for a minute...we're trying to find some more stories you might like.
For the first time in 11 years, our own Santiago Sharks won a game in the CIF Southern Section football playoffs. No matter what the score tells you, this was a game to remember. Both teams, the Murrieta Mesa Rams and the Sharks, had their chances, but, as always, it came down to who could take advantage of those opportunities and score – and this time it was our Sharks doing the scoring.
The stage was set for one team to come out on top – advancing to the quarterfinals of CIF playoffs. A smaller than normal crowd gathered for a Friday night matchup under the bright lights of the Santiago Stadium. The game was set – Santiago got the ball first and quarterback Nano Castillo made a long first drive of the game. On the 8th play of that drive, 2nd, and goal, the Sharks went up the middle and fumbled the ball. The Rams recovered it and started a drive of their own, ending in a fourth down punt. What followed was amazing to watch – 4 straight punts by the Rams and 3 straight touchdown drives by the Sharks, including a quarterback keeper. With a couple of seconds left in the second quarter and a 4th down and goal, every kids' dream was realized. The ball was sent flying right through the hands of the receiver and was incomplete, but a flag was thrown down late. The call was held on the Murrieta Mesa defense. One final drive in the first half resulted in another Santiago field goal, leaving it 24-0 Santiago at halftime.
After the band was done with their big performance, it appeared as though the scoring was done, as both teams unsuccessfully went for almost every 4th down. Then, as the 4th quarter wound down, the Rams started their only scoring drive of the game with 3 minutes left of the game and their season. The Rams marched down the field to the home team's 8-yard line, and incomplete pass leaving it third and goal. As the crowd roars in excitement, to stop them from scoring the quarterback steps back to pass, which would be unsuccessful, bringing the Rams to 4th down. They bring on the kicking unit and put 3 on the board with a late field goal. The scoring was a little too late for the Rams though, as they fell to Santiago 24-3.
Santiago played an away game against Mission Viejo's Capistrano Valley High School, who they fell in an unfortunate loss.

About the Writer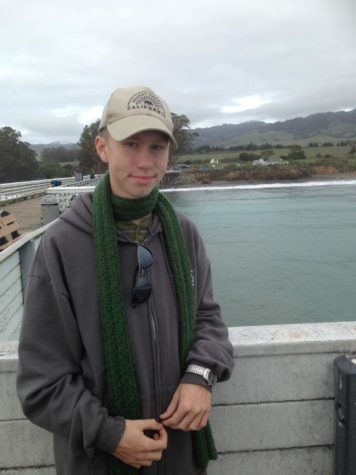 Thomas Cass, Treasurer
Thomas Cass (11) is entering his second year in journalism and loves expressing his opinions for the paper. After he is caught up on his homework or chores,...