A Very "Wicked" Halloween
Hang on for a minute...we're trying to find some more stories you might like.
On October 29, to celebrate the fifteenth anniversary of the Broadway musical "Wicked", the popular American broadcasting station, CBS, aired a forty-minute special featuring popular artists such as Ariana Grande, Pentatonix, and Ledisi. It was hosted by the original leads in the musical, Idina Menzel (Elphaba, The Wicked Witch of the West) who also voices Elsa in the Disney movie "Frozen" and Kristen Chenoweth (Glinda the Good). Every moment in the special "A Very Wicked Halloween" was phenomenal. There wasn't a single dull moment.
Starting off with an introduction by the two original Witches of Oz (aka the fabulous Idina Menzel and Kristen Chenoweth), it continued with a wonderful performance of "One Short Day" by the current Broadway cast. After the performance, Menzel and Chenoweth welcomed an original cast member from the show, Adam Lambert (Fiyero) and popular American R&B/Jazz artist, Ledisi. Their duet of "As Long as You're Mine", the romantic number from the musical, was stunning. Their voices blended harmoniously together – it was like liquid gold seeped from their mouths.
After their beautiful performance, Kristen Chenoweth performed her character's iconic anthem, "Popular." Chenoweth's high range vocals are still powerful even after 15 years. Her quirky and bubbly attitude is indistinguishable from her onstage character, Glinda. When Chenoweth was done, Pentatonix performed "What is this Feeling?", an upbeat song about the feud between the two Witches of Oz.
Idina Menzel performed the musical's anthem and Elphaba's theme, "Defying Gravity". It's a powerful song about being immensely powerful to the point that nothing can stop you. Menzel's belting voice was enough to give chills to every viewer. Ariana Grande then performed"The Wizard and I". Grande has been a fan of Wicked since she was nine years old! Personally, I am not a fan of Ariana Grande, but when I heard her singing, I was blown away. It must have been her biggest accomplishment to perform a song from the musical she's loved since the young age of nine.
To conclude the show, Idina Menzel and Kristen Chenoweth closed with a heart-wrenching performance of "For Good". Before the pair sang, they dedicated their last song of the night to all of the Wicked fans who have supported the musical for fifteen years. Kristen Chenoweth teared up when explaining the emotional meaning behind the song. Menzel and Chenoweth were joined on stage by every Elphaba and Glinda actress that ever performed on Broadway. It was the most emotional performance of the night. Although I would have preferred the special to be longer, I still thought it was wonderful. Due to Wicked, I have been changed for good.

About the Writer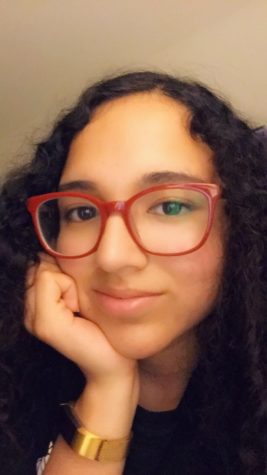 Kaleigh Soto, Staff Writer
Kaleigh Soto (11) was originally born in Harlingen, Texas, but moved to Corona in 6th grade. Soto enjoys many activities including (but not limited to):...