The Rise of Thomas Chabot
Hang on for a minute...we're trying to find some more stories you might like.
This season, the Ottawa Senators didn't have many positive things to look forward to as far as this season goes. There wasn't much hope for this season due to the excessive drama surrounding the team. During the offseason, there were many rumors about Erik Karlsson being traded along with rumors of his wife being cyber-bullied by one of his teammate's wife. Erik Karlsson, was, at the time, the captain and arguably the best defenseman in the league and the rumors were troubling for the Senators. He was eventually traded and everybody thought their 2018-2019  season was a lost cause, but they forgot about one of their prospects that played a significant amount of time with the Senators last season: Thomas Chabot.
Chabot was drafted in the first round of the 2015 draft as the 18th overall pick. Throughout junior hockey, he was a very well-regarded prospect due to his offensive ability along with his exceptional defense. In juniors, he had 0.76 points per game pace, which is great for a defenseman. Where he really got noticed was at the 2017 World Junior Hockey Championship where he had scored 10 points in 7 games – highly impressive, as he was playing against the best players under the age of 21 around the world. After that tournament, everybody thought the sky was the limit for the kid since he had so much offensive prowess. To start the 2017-2018, he started the season and his NHL career with the Ottawa Senators. With it being his rookie season, he faced expected difficulties associated with being a defenseman and a rookie. He was healthily scratched several times, but that was normal as it was only his first professional season. In 63 games, he put up 25 points. That season was just the beginning of something great for him.
With the star of their team being traded, there were some big shoes to fill on the Ottowa Senators, and Chabot has done a great job in filling that role. So far this season through 18 games, he has scored 22 points. As for Erik Karlsson, he has only 8 points through 19 games with the San Jose Sharks. Watching Chabot's play, you can notice his offensive ability and confidence. On the power plays, he completely controls the play and has the ability to create chances constantly. This kind of play from Thomas Chabot is only the beginning for him and if he continues, his name could be a contender for Norris contention for best defenseman in the league.

About the Writer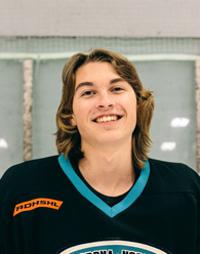 Cody Vadeboncoeur, Staff Writer
Cody Vadeboncoeur (12) is someone who loves to watch and play sports. He is currently playing hockey for the Varsity Corona Norco Stingrays of the ADHSHL....