The Underrepresentation of Women in the Film Industry
Hang on for a minute...we're trying to find some more stories you might like.
Amidst the #MeToo movement that began in 2017, women began to receive more recognition for the efforts in combating harassment in the workplace. A majority of these women worked in the entertainment industry, and their stories revealed the horrors that occur when the lights are dimmed and the cameras are off. Stories about Harvey Weinstein, Kevin Spacey, and Roman Polanski began to emerge, and the movement was in full swing.
The #MeToo movement not only brought attention to Hollywood's misconduct but also provided women with an outlet to speak about their misrepresentation in the industry. The #MeToo movement didn't begin smoothly; many women were accused of fabricating their stories in order to garner attention, which only served to feed into Hollywood's corruption. The women involved in this movement, however, have given a platform to all women in the entertainment industry – and beyond – to not let powerful men censor them.
Awards shows such as the Golden Globes and the Oscars raised awareness in 2018 for the need for more female filmmakers. The 2018 Golden Globes was an event in which the #MeToo movement was officially publicized, with both actresses and actors wearing black in order to show their support for the movement. A small gesture like this was just a moment within a movement.
An interesting comment from actress Natalie Portman sparked controversy at the 2018 Golden Globes. Portman announced the nominees for Best Director, to which she said: "Here are all of the male nominees." Many saw Portman's comment as an attack on the men who were nominated. Her comment was mainly regarding the fact that Greta Gerwig, who directed 2017's Lady Bird, wasn't nominated in this category despite the film receiving four nominations in other categories. Many viewed Gerwig's film as an honest portrayal of what it's like to be a teenager, and her lack of a nomination came as a shock to many.
The 2018 Oscars ceremony, however, acknowledged Gerwig's work and nominated her for Best Director, with her being the fifth woman ever nominated for the award. The Oscars also broke ground by nominating Rachel Morrsion, the first woman ever for Best Cinematography, for her work on Mudbound. The 2018 Oscars continued with the theme of women in the media by dedicating some of its screen time to a segment on women in the industry.
Frances McDormand, who won the Oscar for Best Actress for her performance in Three Billboards Outside Ebbing, Missouri, mentioned the term "inclusion riders" in her acceptance speech, which left many confused by what she meant. An inclusion rider is a provision in a filmmaker's or an actor's contract that provides for a certain level of diversity in casting and production staff. What McDormand meant by this term is that elite filmmakers should employ their power and fight to have more representation in films. According to research conducted by Stacy L. Smith, the director of the University of Southern California's Annenberg Inclusion Initiative, in a study of 900 films, 31.4 percent of speaking characters were female, and women represented just 4.2 percent of the directors.
2017 offered more representation for women than past years have combined. 2018 built upon the work 2017 started, and films such as Annihilation and Ocean's 8 explore all-female ensembles in genres such as science fiction and crime, which have previously been dominated by mostly-male lead roles. The demand for women in the media is skyrocketing, and, as 2019 begins, more female filmmakers and female ensembles can be anticipated.
The most important thing to understand about the #MeToo movement is that it isn't meant solely for women in the entertainment industry. It's meant for every woman in every workplace to express to them that they are not alone, and they deserve equality.
About the Writer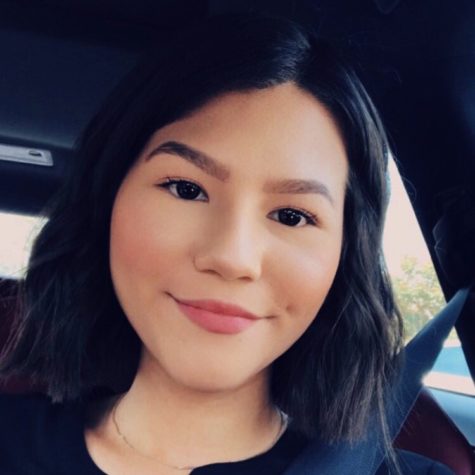 Natalie Mosso, Arts & Entertainment Editor
Natalie Mosso (12) is a senior at Santiago High School and a first year journalism student. She is an avid fan of films, books, and music, and she loves...