Who Won the Coyotes-Blackhawks Trade?
Hang on for a minute...we're trying to find some more stories you might like.
At around 11 p.m. on Monday, December 10, there was a trade that not many saw coming. It was announced that the Arizona Coyotes had acquired Nick Schmaltz from the Chicago Blackhawks for Dylan Strome and Brendan Perlini. Because we are only a quarter of the way through the season, this trade was very unexpected. Midnight trades themselves are also rare, as most trades occur during the daytime.
The most notable player in this trade, Dylan Strome, was the 3rd overall pick in the 2015 draft, which was full of amazing talent, and to see him traded by the Coyotes displays the disappointment level in the management as they were expecting great things from him. He was supposed to be their franchise player, but he has yet to develop into that and will no longer have that opportunity with the Coyotes. Throughout two seasons and 48 games, he only has 16 points which accumulate to an abysmal 0.33 points per game. He was drafted right after Connor McDavid and Jack Eichel and with players like Mat Barzal and Brock Boeser, displaying that the Dylan Strome pick has "bust" material but all hope is not lost as he is still young.
Along with Dylan Strome, Brendan Perlini was traded to the Blackhawks. Perlini, like Strome, is a center and came with very high expectations. He was drafted as 12th overall pick in the 2014 draft. He had a decent junior hockey career with his best year actually occurring in his draft year with 71 points in 58 games. Upon being drafted, his play began to decline, accumulating 45 points in 57 games, which is not what everybody is expecting from a former first-round talent. When he finally earned his way to the NHL, he was a solid 3rd line center who could have added some depth to any lineup. Throughout 153 games, he has had 57 points, which is not great considering the amount of potential he had in his draft year. Even though he hasn't done much, he still has attributes that can lead him to success. He has a great size, a great shot and has good enough speed to be a threat on the ice. If the Blackhawks help round out his game defensively and line him up with solid wingers, he can end up being a great player because he definitely has all the tools to become a star.
The player that the Arizona Coyotes received, Nick Schmaltz, is the most established player in this trade. He was drafted in the 2014 NHL draft with the 20th overall pick, 6 picks after Brendan Perlini. He played in the USHL in his draft year and grabbed enough attention to get drafted in the first round. The years after his draft is where he grabbed the most recognition. He played NCAA Ice Hockey for North Dakota and did some great things there. In his sophomore season, he earned 46 points in 37 games along with winning the National Championship over Quinnipiac University. After that year, he joined the Blackhawks and has been a very effective player. Even though most of this time he played with Patrick Kane, he can definitely hold his own. Throughout 162 games, he has earned 91 points, which shows the kind of talent he has. He has a great amount of skill, exceptional speed, and can always make a play out of nothing. With his trade to the Coyotes, he will be paired with a similar player to Patrick Kane – Clayton Keller. So far both Keller and Schmaltz have been struggling a bit this season, so the hope would be to create some chemistry between the two players, potentially resulting in a dynamic duo for the Coyotes.
This trade may be a trade that will be won throughout the years. These players are still developing so their potential is yet to be reached, and they are going to be in their prime for a few more years. They are just beginning their careers and anything can happen. If we were to judge who got the better return for right now, it results in the Coyotes winning this trade. They were able to get an established and talented young player, hungry to be a star. The Blackhawks got a gamble in Dylan Strome because of his inconsistent performance. If you were a 3rd overall pick in a stacked draft, you'd better be able to perform, and well, he hasn't. Essentially, the Blackhawks got two depth forwards who may be able to develop into talented players while the Coyotes got a guy who is nothing short of limitless potential.

About the Writer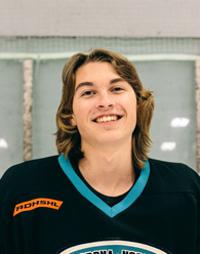 Cody Vadeboncoeur, Staff Writer
Cody Vadeboncoeur (12) is someone who loves to watch and play sports. He is currently playing hockey for the Varsity Corona Norco Stingrays of the ADHSHL....