Kardashian Scandal
If you've been Keeping up with the Kardashians, you may have heard about the cheating rumors between Khloe Kardashian and Tristan Thompson. Yes, he cheated on Khloe again, but this time he cheated on her with Kylie Jenner's best friend – probably considered a member of the family – Jordyn Woods.
The rumors were actually confirmed by Khloe and her best friends, Larsa Pippen, and Malika Haqq. The friends commented on a post by @hollywoodunlocked on Instagram. Woods tried to deny the huge accusation that was made but later confessed and even opened up about it on a Television talk show called Red Table Talk. She claimed, "We're all dancing and drinking. I'm not thinking: 'I shouldn't be here.' And that's my first step where I went wrong. And how would I feel if someone close to me is hanging at my ex's house – the father of my child? I didn't think about that. That's the first part of the problem. I should have gone home after the party." Woods confessed this in the interview, which is linked below. The sad part about all of this is that it isn't the first time Tristan has cheated on Khloe. A video spread on April 10, 2018 of Tristan appearing to kiss another woman at a club. This video was published on Twitter a few weeks before Khloe was expected to give birth to their first child – horrible, I know. What he's done is messed up. After all this, she still decided to stay with him, which was clearly a mistake. It's also understandable though, considering he is the father of True, her first-born child. However, it's bad on both parts, as fights on social media still remain between the two.
About the Writer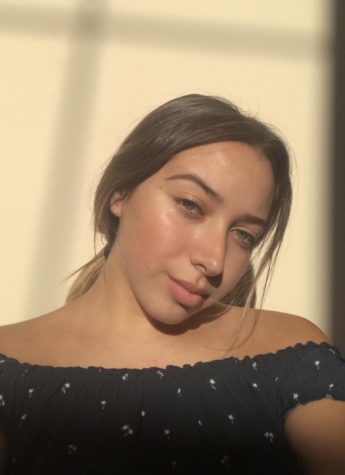 Alyssa Matthewson, Staff Writer
Alyssa Matthewson (12) is a new student at Santiago High School, as well as a newbie in journalism. She enjoys art, sunsets, and the beach. When she isn't...