James Holzhauer Breaks Records on "Jeopardy!"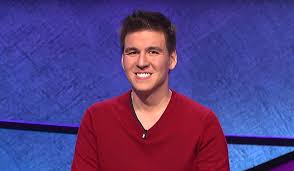 "Jeopardy!"'s iconic long-time winner has been Ken Jennings, with his 74-game streak in 2004. Although, in recent weeks, it's quite possible that a new champion is coming for the crown.
James Holzhauer has won 15 games (as of Thursday, April 24) and has amassed an overwhelming total of over $1.1 million on the trivia show, putting him in second place for most money won on the show (in first place: Ken Jennings). While Holzhauer has demonstrated an immense and broad range of knowledge, he's exhibited that there's more to success on the show than simply knowing obscure facts.
Holzhauer, a professional sports gambler from Las Vegas, racks up his generous daily totals by implementing background from his rather unconventional profession. Many have caught on to his unusual yet ingenious strategy–he answers the highest value questions first so that he can wager as much as possible in the Daily Doubles and the Final Jeopardy question. This, when coupled with his skills in trivia, has enabled him to set and break his own records in single-day earnings, his highest being $131,127. He averages an astounding $71,000 per night (when the average winner finds themselves leaving with approximately $20,000 per appearance). At this rate, Holzhauer is comfortably on his way to surmounting the incredible bar set by Ken Jennings.
In addition, many find him to be an entertaining contestant to watch. His wagers often tend to be random numbers, but he explains that he models them after significant dates in his life. Holzhauer also pays tribute to his friends and family in Final Jeopardy by offering shout-outs and birthday wishes.
While some "Jeopardy!" enthusiasts are excited to see a contender who seems to be a match to the reigning champion Jennings, others aren't so sure. After predictable games lead to continuous wins, some believe his streak should be over and that someone else should get a chance to win. However, Holzhauer has stated on the show that because his family is well-off, he plans to donate a large sum of his winnings to children's hospitals in Las Vegas, that, he explains, "really need it," which is a cause almost impossible to argue with.
One can only wonder how long Holzhauer's victory streak will last, but his run has been extremely memorable thus far.
About the Writer
Naomi Boodhoo, Editor-In-Chief
Naomi Boodhoo (12) is this year's editor-in-chief of the Shark Attack, returning for her third year. Outside of her busy senior year coursework, she can...