Five Films That Defined My High School Experience
Hang on for a minute...we're trying to find some more stories you might like.
The end of high school marks the end of four years spent preparing for the rest of my life. Four years of studying, making new friends, losing old ones, stressing out, and making memories is coming to an end. While I cannot say that my high school experience was everything I wanted it to be, high school gave me the opportunity to grow. Upon writing this article, I am 24 days away from my high school graduation. To celebrate my final days at Santiago High School, I want to highlight five films that defined the high school experience for me on a personal level.
#5) Mommy (2014)
I've always admired French cinema for being the ideal balance between drama and realism, and Mommy is no exception to this. We've all struggled at some point in our lives, and director Xavier Dolan depicts this struggle through the relationship between a Diane, a widowed mother (Anne Dorval), and her unpredictable teenage son, Steve (Antoine-Oliver Pilon). Their antics, though dramatized, are realistic and relatable. Despite Steve being a delinquent, I understand what he is going through and how the choices made by his mother impact him emotionally. I find their dynamic endearing, and the film made me even more appreciative of my own mother who I know is there to support me no matter what. The incorporation of music into the film, especially in that scene (if you've seen the film you know exactly what I'm talking about), also resonates deeply with me, as music is a large part of my life and has shaped the person I've become today.
#4) Ferris Bueller's Day Off (1986)
My guilty pleasure is 80's movies, and I say "guilty pleasure" because 80's movies are inherently cheesy, superficial, and unrealistic. When I first watched Ferris Bueller's Day Off, however, it became an instant classic. It's the movie I turn on when I'm happy, sad, or feeling any emotion in between. To me, it's the epitome of high school movies. I never was a The Breakfast Club person; I always stuck by John Hughes' underdog film. While Ferris Bueller's Day Off does glorify the high school experience a little, it still manages to remain lighthearted and goofy with charming characters and a fun story. Ferris Bueller (Matthew Broderick), his girlfriend Sloane Peterson (Mia Sara), and his best friend Cameron Frye (Alan Ruck) create a high school ensemble most would want to emulate. I admired this pack so much that last Halloween I went as far as to dress up as Cameron, while two of my best friends accompanied me as Ferris and Sloane. What I appreciate the most about this film is its message: enjoy the little things in life before they're gone.
#3) Submarine (2011)
While Ferris Bueller's Day Off captures the goofiness of high school, Submarine emulates the drama and melancholy one experiences while trying to fulfill their deepest desires. The film's protagonist, 15-year-old Oliver Tate (Craig Roberts), balances wooing the girl of his dreams and saving his parents' marriage, which is shown in an introspective narrative. Oliver felt like a real, everyday person with real struggles. This British melodrama surprisingly tugs at my heartstrings with its dry, witty banter. The visuals are also able to capture the emotion of the film and heighten the overall viewing experience, with wide shots that capture nature's beauty. Oliver Tate's awkward and offbeat behavior is relatable and charming, and I'm able to understand what he's going through while also applying his situation to my own. It's genuine and shows a real understanding of the teenage mind.
#2) Juno (2007)
No, I don't condone teen pregnancy, but, hey, it happens. Juno takes its complicated subject matter and un-complicates it, offering a fresh perspective on a problem that is prevalent today. The film is structured by season and follows Juno's pregnancy from winter to summer, capturing the emotional highs and lows of her pregnancy and her high school experience. The titular character (Ellen Page) has an inspiring attitude, not caring what others think and staying true to herself. She's pregnant and she's in high school, but she overlooks the people who stare at her belly or shoot her the evil eye. She's aware of her mistakes and takes a mature approach to her situation by finding a family who will adopt her unborn child. Juno's maturity for a high school student is refreshing to see in modern cinema, as I see myself as someone who's too mature for her age. Witty and relevant as ever, this flick deeply resonates with me.
#1) Lady Bird (2017)
I couldn't write an article about high school films without including Lady Bird. I'll admit that I find this film cookie-cutter and predictable, but it does impact me on an emotional level. Lady Bird reveals the truth about senior year of high school. I'm in the exact same spot as Lady Bird (Saoirse Ronan) herself. She's applying for colleges, she's pursuing guys she likes, and she's trying to make something of herself. I see parts of myself in Christine McPherson. She's stubborn, goal-oriented, and opinionated, but she's genuine. The first time I watched Lady Bird, I was with my mother. After the film, she cried. The dynamic between Christine and her mother (Laurie Metcalf) mirrors that of my mother and me. We both have such strong personalities that cause us to always disagree and bicker, but at the end of the day we know that we love each other and will always be there. Director Greta Gerwig has crafted something true to life. I've read multiple reviews in which teen girls gush over how Lady Bird is important to them because they feel heard and understood. When any type of media is able to reach their audience personally is when you know you've succeeded. I will always appreciate Lady Bird for holding truth that took me too long to realize and for bringing my mom and me closer together.
About the Writer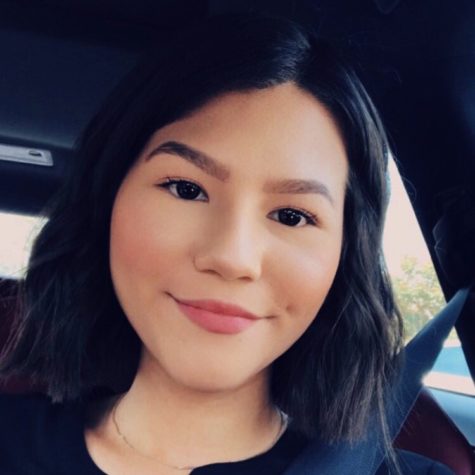 Natalie Mosso, Arts & Entertainment Editor
Natalie Mosso (12) is a senior at Santiago High School and a first year journalism student. She is an avid fan of films, books, and music, and she loves...