The NFL Season Starts NOW
As another NFL season looms in the near future, many fans are looking to the changes from last season that are to be implemented. With not only with a new way to view pass interference calls, but also some big-name players moving to different teams with different cultures and game plans, here is everything you'll need to know before kickoff on Thursday, September 5th.
Antonio Brown enters a black hole 
AB is now in a black-and-silver uniform instead of the famous black-and-yellow, all because he could not get along with the Steelers' quarterback, Ben Rothlesberger. He is moving to a team where he will be the star every Sunday, no matter what he does. Along with Brown on the Raiders, he joins a broken defense and an offense with no running back and no offensive line. This team does not have very high hopes for this season, especially on top of a head coach who is good, but definitely not the best.
Joe Flacco goes to the Mile High City
Joe goes right from Baltimore to Denver, two teams who have a quarterback with a below-average passer ratings. Flacco has had a winning tradition in the past but recently his game has decreased in these last few seasons. After 10 seasons of Joe Flacco as the head quarterback, Baltimore has decided to part ways with him and go with a much younger QB who has a reputation of running with the ball more than he throws it. Last season Flacco played 9 games and had a 4-5 record. Over in Denver on the other hand, they have rotated through quarterbacks and running backs like you change your socks. Now that they finally have someone to trust, are they going to back to the top of the division?
Retired Players
Some players will not be coming back with their respective teams, like Rob Gronkowski, the famous tight end for the New England Patriots. He has played only 6 years with the team but has won an impressive three league titles. Another player not returning is the great Andrew Luck, who played his heart out every time he took the field. He was an amazing human being who was consistently in the running for comeback player of the year and even MVP in his prime. We hope nothing but the best for both of them as time goes on.
The Chiefs clean house on their defensive 
This team was one play away from the super bowl, but they, unfortunately, suffered a crushing loss. The team has decided to start over, so they received a new defensive coordinator in an effort to reconstruct. The team only kept 5 players from last year's defense and grabbed everyone they could to build a defense they can win with. All the star players are gone, such as Justin Huston and De Ford, and instead, Frank Clark and Tyrann Mathieu have been brought in. They did keep their offensive together, so one can only wonder, is there a chance they can make it back to where they were?
Odell to the Browns
Odell Beckham Jr. was the most talked about WR this offseason. This is largely due to the fact that he moved from a team that lost its identity years ago, the Giants, and was shipped off like a T-shirt in a box to Cleveland, where the future looks bright. Beckham Jr. has been praised since he was first named a Giant in 2014. He has had flashes of some greatness every year, which is apparently enough to warrant the divine treatment he receives. He joins Baker Mayfield and a decent defense along with the demands of the fans for the team to start winning now. Do you think they will?
Nick Foles signs his way out of the city of brotherly love 
Nick Foles took a broken team in 2017, and led them to the promised land and made them champs. In return, he was placed on the bench the next year and made to deliver a playoff spot with 2 games left in the season. He gave them a spot, lost in the second round and was put up for free agency. The Jaguars drew up a contract for him with an opportunity to play. Let's see how he does on September the 8th at 10:00 AM PDT when they start the season at home against the Chiefs.
Many fans are looking forward to the new season, and may the best team win.
About the Writer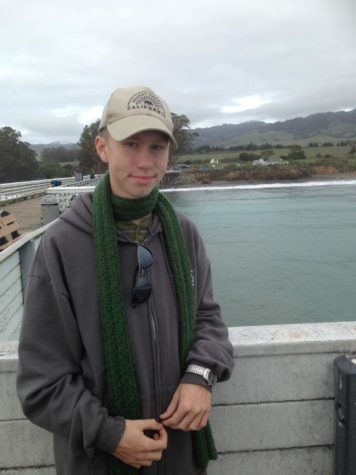 Thomas Cass, Image Editor
Thomas Cass (12) is entering his third year in journalism and loves expressing his opinions for the paper. After he is caught up on his homework or chores,...