Another School Shooting – At Saugus High School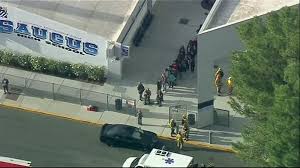 The terrible tide has turned yet again. A school shooting occurred the morning of November 14, 2019 at Saugus High School in Santa Clarita, California. The shots broke out at 7:38 a.m., leaving a 14-year-old boy and a 16-year-old girl dead. In addition, 3 more students were injured before the suspect turned the gun on himself and shot himself in the head. The tragedy took place on the suspect's 16th birthday, with a .45 semiautomatic pistol.
The suspect, now 16-year-old Nathaniel Berhow, died at 3:34p.m. on Friday after spending almost a day in grave condition. His mother and girlfriend are cooperating with authorities to provide any information they can to piece together the situation. He was described as "quiet," and an obituary reported that his father died two years earlier after domestic conflicts with his mother, but no certain motive has been identified. However, an Instagram account whose bio read, "Saugus have fun at school tomorrow," was found, but Instagram reported it has no connection to the suspect. It seemed to be owned by an impostor of the suspect trying to get attention.
As expected, the students panicked when they heard the gunfire or news, wherever they were–in the quad, approaching the school, or already in class. Many reported a despairing sense of gravity in realizing this was not a drill, but the coming of an event that will change their lives.
Perhaps one of the most alarming effects of the shooting is the aftermath–as a society, we have become incredibly desensitized to this awful form of tragedy. When Mrs. Larson told our journalism class that there had been a shooting, the shocked reaction that perhaps this event warrants had dwindled to just a slight elevation in the buzzing of the class. Quickly, we returned to our usual affairs.
But it's not the fault of apathetic teenagers who don't pay enough attention to world affairs; after all, as the writers of the newspaper, we clearly have some drive and inclination to understand the world's events and many were saddened by the news. Unfortunately, this has become so common, the happenstance of the event only causes a minor hiccup in the mental states of those that receive the news. But when this shakes up innocent schoolchildren's lives with worry about any safe space in the world and unnecessary loss of those they call friends and classmates, it is the time to act.
And this time, it's so close to home. Santa Clarita is a suburb very comparable to Corona, with good schools and safe neighborhoods. Saugus High School was even set to appear at the cross-country CIF-Prelims race the next day, and suspect Berhow was part of the team–although they understandably did not show up. How much closer does such an event need to occur to strike a chord that leads to lasting change, locally and nationally? How much closer can it occur before it's our students hiding under desks and in closets?
This happens too often, and action must be taken to truly put into perspective the gravity of this event. Guns should not be so commonplace that a fifteen- going on sixteen-year-old can gain access to one. The central administration needs to finally put aside their petty, hateful, and close-minded affairs to fulfill the rights we've always been promised of a safe and truly progressive America.
About the Writer
Naomi Boodhoo, Editor-In-Chief
Naomi Boodhoo (12) is this year's editor-in-chief of the Shark Attack, returning for her third year. Outside of her busy senior year coursework, she can...