Sawdust Art Festival
Laguna Beach's very own Sawdust Art Festival is a one-of-a-kind art show like no other. People from all over the globe travel to this very location to see the wonders of this art shown. From the unique setup, variety of different arts, dancing to live music, local food, and pop-up art classes. This art event is like stepping into the 1960s and 1970s with its down-to-earth wonderland. Invite a family member, friend, and or come to take some alone time either way you are bound to find something eye-checking for yourself or a loved one with the 167 different artists this year.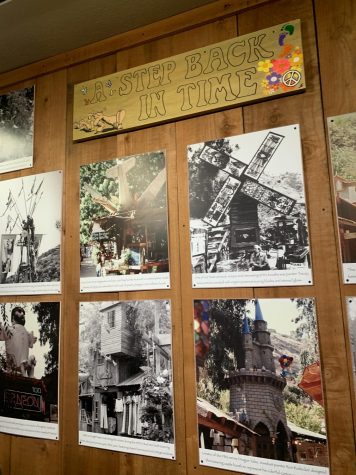 The very first showing of this festival took place in 1965 thanks to the founder Dion Wright. In the 1980s the growth of this once small town/ gypsy camp for the artist to showcase their work for the public turned into having dramatic one-of-a-kind towering facades each year, showing off each person's courage and originality in daring to be different during this time. This environment is definitely like a family for the artist and the visitors. During the hard time in the 90s with firestorms and huge mudslides in the canyon where most artist's homes or and studios are located, a fund called the Sawdust Benevolence was created to help the artists in need. From the very start of this one-of-a-kind wonderland, the Sawdust Art Festival has always been an experience like no other and this statement stays true to this day.
With being a nonprofit organization, this festival holds great things for the community and visitors from all over. When taking the time to visit this one-of-a-kind outdoor art exhibit you are educated on the wonders of art and the fantastic opportunity to join pop-up art classes of varsity kinds on the grounds. This summer event happens from July 2nd to September 5th of this year. On Sunday to Thursday, the grounds open at 11 am and close at 7 pm. If you want to see this stunning festival become even more breathtaking, plan on coming on a Friday or a Saturday when the festival doesn't close until 10 pm. Once the sun sets, the festival lights up giving the scenery an even more earthy experience. While walking around and seeing all the different booths you will be welcomed with lovely local live music. If you would rather sit down and watch the musicians play you can either up on the deck or down by the local food concession stands. 
Even with over 100 booths, no one booth is the same as another. All 167 booths are unique to the specific artist. Before the start of the season, the artist builds their one-of-a-kind setups to show off their personality to the audience. Stopping to look at one of the many booths can become much more than just staring at beautiful art. When taking time to look at an artist's work they will most likely take the time to have a conversation with you. You can learn so much about that person's life, what it means to be an artist, and the pleasure of getting life lessons that you can cherish and use in the real world. While speaking to these kind type of people you could even be lucky to find your spark for art. 
The Sawdust Art Festival has multiple social media outlets. You can check them out on Instagram, Facebook, and Youtube at @sawdustartfestival. They also have a Twitter @sawdust_art. Make sure to look up their own website at www.sawdustartfestival.org. While checking out the website you can sign up for their mailing list to get all the latest information. 
Living about an hour away from The Sawdust Art Festival makes it a perfect summertime occasion. During these difficult times with COVID and coming back to school, this would be perfect for a little getaway and to get back into a calming frame of mind. This is also a great event to have planned for the next summer season. If you feel like summer 2022 is too far away to wait, many of the artists on the ground have their own studio that you can check out as well. The impression and uniqueness are endless at the Sawdust Art Festival.