Flash Floods In Turkey
Floods in Turkey
Natural disasters and extreme weather events in Europe have led to numerous flash floods in Turkey. The death toll from severe floods and mudslides in coastal Turkey has climbed to at least 40. Rescue workers are still working on finding the hundreds missing and personnel, including military police, are dealing with the flood's aftermath. While the flooding took the lives of many, they also demolished homes, severed at least five bridges, swept away vehicles, and rendered numerous roads unpassable. Over 20 tons of food and generators are being delivered by helicopters to inaccessible villages. Neighboring provinces urgently send governors to reopen roads to villages in mountains.
A village near the Black Sea, named Bozkurt, was one of the most affected villages in Turkey during the flash floods. The rushing waters collapsed homes and left families searching for loved ones. One family was deeply affected by the floods and left with unfortunate news. Eight members of one extended family were missing in the village — 12-year-old twin girls, their grandparents, two younger children, and their two aunts, said Fatih Karaalioglu, a relative, in a phone interview, and the family had not been able to reach them. The family was waiting to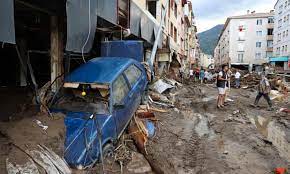 hear from a cold-storage depot region, where unidentified bodies are held.
 The mismanagement of rivers has made flooding more common, experts say by narrowing natural channels.  After decades of deadly fires, the roots of bushes, trees, and grasses have slowly decade away. Natural rains and storms have loosened the earth beneath these plants, causing landslides and floods. The flooding came only days after these fires, possibly the worst flooding in years. These flash floods ravaged villages in southern Turkey, forcing thousands to evacuate their homes and destroying huge sections of farmland and livestock.
Are the floods causing wildfire to get worse? The floods in Turkey, triggered by torrential rains, have collapsed buildings, smashed bridges, wrecked cars, and cut power lines. President Recep Tayyip Erdogan visited Kastamonu on Friday and attended a funeral for some of the flooding victims."We can't bring back the citizens we lost, but our state has the means and power to compensate those who lost loved ones," Mr. Erdogan said after leading prayers. In flooded areas, people were rescued by rooftop while others were rescued by boat. More than 1,700 people have been evacuated, and as many as 330 villages are without electricity.