LA's New Vaccine Mandate
Los Angeles, California got a new vaccination mandate that is amongst the strictest in the country. People who have been going to stores in LA have been having to show proof of Covid-19 vaccination. This strict mandate began on Monday, November 8th, 2021.
The manager of a struggling nail salon feels trepidation and expects to lose customers. "This is going to be hard for us," Lucila Vazquez said. At Blue Bottle Coffee in the Los Feliz neighborhood, a sign on the front door reminds customers that they must show proof of vaccination if they want to eat indoors. LA is not the only city passing such laws, for example, San Francisco and New York City are also requiring people to show proof of vaccination to enter various types of businesses and venues.
Manager Matthew Cadena said that it has been going rather smoothly for him. He said most people are understanding and that there are only a few people who saw it as "nonsensical". This is around the same time in 2020 when the worst spike was just beginning in California. Los Angeles was the epicenter of it all and had so many people with Covid. The hospitals had been so overloaded with patients that ambulances idled outside while patients had to wait. In LA county the population is estimated at 10 million people. 80% of eligible citizens have gotten at least of the Covid-19 vaccine dose and 71% of those available are now completely vaccinated, according to public health officials. 2 months ago the LA city council voted 11-2 to approve the requirement for people 12 and older to be vaccinated in order to enter indoor public places such as Museums, Sports arenas, spas, and other locations.
The rules set in one of the country's most populated cities, known as SafePassLA, apply to many types of businesses and other indoor public spaces such as museums and grocery stores. People opposed this and had a protest in opposition to the mandate. A total of 77 L.A. city employees lost pay because they refused to sign a notice for the Covid vaccine. Dozens of L.A. city employees are now going unpaid after refusing to sign a notice that instructed them to get COVID-19 vaccines with the deadline being in December and the numbers of these cases may grow in the close future. said Mayor Eric Garcetti. The mayor addressed the issue of Covid-19, his first since he tested positive for Covid. The mayor said that 700 employees were vulnerable to joining the people who have been fired. The city employs over 50,000 people. LAPD Assistant Chief Beatrice Girmala said that six unvaccinated people had been assigned to home duty in just one week. L.A. is now facing lawsuits from groups of Police department employees and firefighters who are challenging the mandate.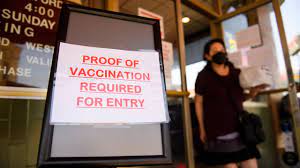 The city of LA does not plan to immediately punish those who do not acknowledge the new rules. LA officials want to go down a less violent path by starting with educational and outreach efforts. The enforcement started officially on November 29. Since that day (A few days ago), businesses have been getting penalized for not following the rules. According to Los Angeles Times "At first it is a warning, then an escalating series of fines starting at $1,000 and topping out at $5,000 for a fourth or subsequent violation." If someone looks over the age of 18 they will be required to show identification and proof of vaccination.
Danielle Evenson was at a coffee shop in LA as a customer, she had her proof of the vaccine card ready after the customer in front of her was asked for his. She stated that she "felt a little bit safer" once she showed her card. "If you want coffee badly enough, you'll get it out immediately," she said.
LAFD Chief Ralph Terrazas says that if people continue to refuse to comply it can result in termination.
According to LAIST, " 'You can have an opinion as long as you do it off duty. But on duty, you're working, and you are a public servant,' Terrazas wrote. 'And I expect you to carry out our mission to protect the lives and property of the people of Los Angeles.' " This has led to some conflict because of an incident in which a firefighter allegedly wiped himself with a notice that was about the Covid-19 vaccination mandate. This has outraged some firefighters and they are suing over it.
Terrazas has said that 82% of current LAFD firefighters are vaccinated.