U.S. Lifts its Border Restrictions
America's borders have closed for air travelers in thirty-three countries – including, but not limited to, China, India, South Africa, Brazil, and Europe – due to Covid-19. After the nineteen months of border closure, loved ones can now be reunited. It is a very heartfelt time for many as friends and families see each other after being separated by borders and oceans. 
As of Monday, November 8th, 2021, borders reopened to fully vaccinated adults are being let in with their vaccination proof. There is an exception for unvaccinated children under eighteen years of age who will be allowed in if they are traveling with a fully vaccinated adult and those who are medically unable to be vaccinated. Travelers over the age of two are required to show a negative Covid test taken within the previous three days. Overland crossings require proof of vaccination but no test. The reopening follows under the new decision of the Biden Administration to reopen the country to vaccinated individuals traveling by air. It is important to note that not all vaccines are accepted. Only those approved by the Food and Drug Administration. The State Department says that proof of vaccination should be a paper or digital record from an official source. It must include the name of the traveler, date of birth, the type of vaccine, and the date on which the doses were received. In addition to barring thirty-three countries from the U.S, the ban also restricted overland entry from Mexico and Canada.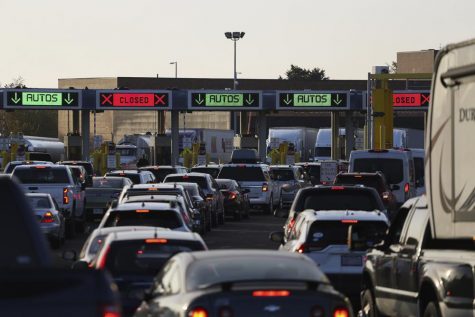 There had been many hand-held signs welcoming loved ones. One sign held by a little boy read, "Do I look bigger? 730 days. Missed you." A woman shouted, "'This is the best thing that's ever happened to me!'" after stepping off her British Airways flight from Heathrow Airport in London. Employees of British Airways lined up outside of the terminal and clapped as passengers made their way out of the terminal. 
Following the announcement that the U.S. will reopen its borders, bookings went up nearly 50 percent compared to the week prior. Six weeks after the announcement was made the percentage of international bookings increased 450 percent. As a way of marking the occasion, British Airways and Virgin Atlantic had two flights take off at the same time, which has not yet been done. The flights headed for Heathrow Airport which has a festival-like atmosphere, with entertainers dressed in red, white, and blue for the day of celebration. CEO of Virgin Atlantic, Shai Weiss, and British Airways chief, Sean Doyle, agree that it was a day of celebration. 
The past year and a half have been something like a nightmare as some described it, but it is finally over for them.  Others are worried about the continued spread of COVID.  For those that finally feel some relief, it is a day filled with love and tears at the time loved ones have been kept apart. As Edward Langley, 34, said, "It's a real sign that people are getting back to in-person events and actually being to see each other and conduct their business in person, which is such a breath of fresh air."