Residents in Corona wake up to find bullet holes in their cars
Over Thanksgiving break residents of Corona in the Inland Empire found their car windows to be shattered by bullets after a shooting at the Ahston apartment complex. 
On a Saturday morning, one of the victims Sherrie Trotter saw a bullet hole in the front windshield of her car that was parked near her complex. Sherrie has a disability and has a grandson that is 11 years old. She's concerned about the cost of repairing the damage to her main source of transportation.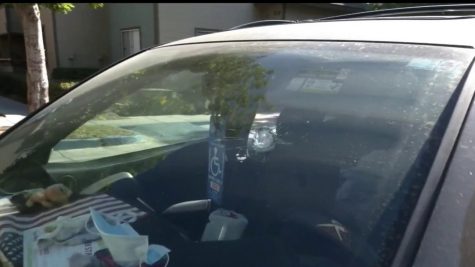 Trotter said, "And I looked up and I saw that and I go what?" 
It was also found that her rear side window was destroyed by a bullet, as well as her neighbor's car that was shot multiple times and a nearby truck was hit many times.
Sherrie continued to say, "I was mad, I was upset, I was thinking about money. How much money to get this fixed."  
Although Corona Police investigators believe two or more people were involved in a gunfight, but they can't be sure because the shooters haven't been found.
The good news was that nobody got hit or injured as well as the children that live there.   
Trotter stated, "It's sad, and knowing that there's kids here it's just not right," 
Sherrie recalls the tragedy that happened in Pasadena last month when 13-year-old Iran Moreno was shot and died while playing online games at home by a stray gunshot. She claims to be perplexed as to why people turn to gun violence. 
"What do you get from it?" Is it bringing you joy? "I don't know," Trotter remarked, "It's not really joyful for us." 
Now investigators are hoping that security footage of the event was captured. Corona police are urging anyone with information to contact them right away.