Meet Danny Bard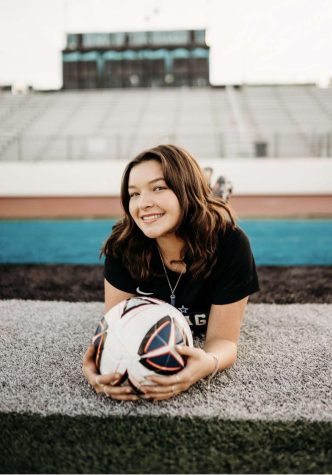 Meet Danny Bard (10). Danny is a 10th grader here at Santiago Highschool and is currently in the soccer program. For Danny, soccer isn't just a casual hobby, soccer is her way of getting away from life: a safe place she can go to relax and destress. She is on our JV team at Santiago and finished off the season with the most inspirational award. She works hard to get at what she wants and will continue to work towards it. She is also the captain of her club soccer team. Danny is the youngest with one older sister. She lives with her 4 dogs, one sister, and two loving, caring parents.
Danny's goal for the year 2022 is to finish school with good grades, have a good soccer season and have a fun time with friends and family. Danny states her advice to everyone around her is "Do what makes you happy." She also states that the most important life lesson she has ever learned is "you can't control what other people say and think". Danny Bard was voted by her high school soccer team for most inspirational. She is encouraging with her actions and words both on and off the field. Her best trait in practice and games is asking questions. When she is confused about a play or situation she will not hesitate to ask her coach for help. She will also put others before herself and is a huge advocate for protecting the planet and our Earth's environmental health. 
Speaking of environmental health, Danny contributes to many clubs that are offered at Santiago such as Project Planet. Project Planet is a club used to inform people about what we can do to help uplift our planet's physical appearance and well-being. Danny loves helping everyone and everything around her. On Mondays and Wednesdays, she coaches her own academy team for the local little league soccer team, Future Ballers Academy. The kids absolutely love her and look forward to improving their soccer skills with Danny training them. She wants to be a kindergarten teacher or an environmentalist after attending a 4-year college. 
Danny's greatest inspiration in her life is her Grandpa. She and her grandpa share similar interests like music and sports. He always encourages her to do her best and not give up even when times are tough. He helps her show her true leadership attributes and helped her come out of her shell when she was younger.
 "Why are you in Project Planet?"
Danny: "I am in Project Planet to help bring awareness to the thought of helping our planet and communities. We only get one earth, why not help it last as long as possible."
"Why do you want to be a kindergarten teacher?"
Danny: "I want to be able to make a difference in kids' lives and I feel like when kids have a good kindergarten teacher, they always remember the teacher that started their love for learning and growing."
Thank you Danny for being an inspiration!