Prom 2022 A Starry Night
After two years without a Prom here at Santiago due to covid 19, finally, this year, Prom is back on the agenda! Santiago ASB has brought us 'A Starry Night' as the theme. Save the date for April 9th from 7:30 pm to 11:30 pm you wouldn't want to miss out on this high school event. Ticket sales began February 28th and end April 6th. If you have a guest from another school you have to bring a filled-out guest pass by March 23rd. Once hearing the announcement of the Prom I found it fitting to interview and ask a few questions to Kadance Lindsey (11) and Tristan Agalvan (12) both in ASB who have been working on our prom. Here are the answers I received from them. 
"How are you feeling about a starry night being this year's prom theme?"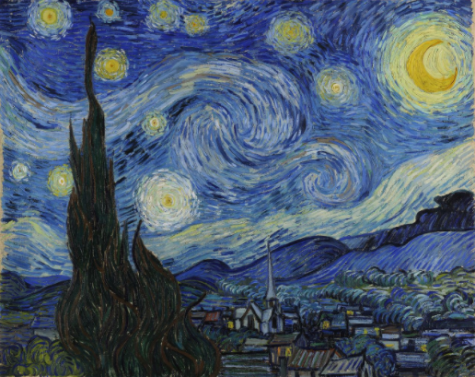 Tristan (12) – "This year's theme is going to be amazing! We are especially excited for our venue, The Artic because it suits our theme of A Starry Night so well."
Kadance (11) – "I can't wait for prom!! A Starry Night is such a cute theme for our first prom since we've been back." 
"What can students expect this year at prom?"
Tristan (12) – "This year, students can expect everything you would find at any Santiago dance. Admission includes casino tables, a caricature artist, a dessert and beverage bar, a photo booth, and even Karaoke!" 
Kadance (11) – "Prom this year is going to be incredible! Behind the scenes, we've been working super hard to create a memorable night and you won't want to miss it! The venue itself is a treat with gorgeous glass windows as well as an outside space. Expect an ecstatic night filled with activities, dancing, and memories!"  
Out of the whole event, what are you most excited about? 
Tristan (12) – "Out of  the whole event, I'm most excited that Santiago gets to have the experience of prom for the first time since 2019 at such a unique and beautiful venue."
Kadance (11) – "I'm most excited for the venue! I think it's just so pretty and it's the first prom being hosted at the Artice! There are just so many cool aspects to it: the lights on the top of the building, the glass exterior, and the giant staircase. It's truly a perfect fit for prom." 
If someone is not sure about going to prom this year what would you say to get them to want to come? 
Tristan(12) – "Prom is such a great opportunity to make memories before the end of high school, which does fly by! No matter your preference you can find your niche at prom by doing things like singing karaoke, getting drawn by a caricature artist, or just dancing the night away." 
Kadance (11) – "It's nearing the end of the year and this is the first prom we've had in a while! It's going to be a night to remember for sure. Whether you have a date or are riding solo, there's something for you at prom! We've made sure to include games, snacks, picture opportunities, and a dance floor. We hope to see you April 9th." 
Don't miss out on a forever high school memory!