The President of Ukraine
With recent world events, all eyes have been turned to the president of Ukraine Volodymyr Zelensky. His every move has been watched and his past continues to be discussed. The war between Russia and Ukraine has spiked the interest of the world and more so the world's interest in Zelensky. 
The rookie president wasn't always up in the government or big-time politician. Zelensky was born on January 25, 1978, in Kryvyi Rih, Ukraine to his parents Rimma Zelenskaya and Oleksandr Zelenksky he is their only child. Before taking his role as president of Ukraine Zelensky was involved in the entertainment industry and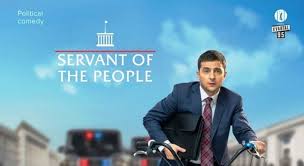 was a comedian. Not only was he a comedian but he was an actor, screenwriter, and director he also received a degree in law and also created a production company. He starred in movies and performed in comedy shows. For years acted in about 15 movies and in many tv shows. His most well-known and popular time on screen was a tv show titled Servant of the People which ironically is about a school teacher being elected for president.
The president is married and has two young children with his wife. In September 2003 he married Olena; they had been schoolmates and she worked as a writer. The two of them have two children together, 17-year-old Aleksandra and 9-year-old Kiril.
After many successful years of comedy and being on the big screen Zelensky decided to run for president. He was inaugurated as the sixth president of Ukraine on May 20, 2019, he won by a landslide with 73.22 percent of the votes. It came as a surprise that an actor and comedian would run and be voted in as president. He is 
part of the party Servant of the people oddly enough this party was named after Zelensky's show and he is one of the founders of the party. 
While Zelensky has been in office for less than three years Vladimir Putin the president of Russia declared war on Ukraine. With this major news, both presidents were placed front and center on the world stage as every country has watched and continues to watch their every move. 
Many expected the Ukrainian president to flee to safety but he assured his people that he will stick with them and help fight for their country. Zelensky spoke out and told the people that "According to our information, the enemy marked me as the number one target. My family is the number two goal. They want to destroy Ukraine politically by destroying the head of state". He has survived multiple assassination attempts. Ukraine believes that he has survived over a dozen attempts from the Russians since the invasion started. 
As the days go on and more lives are put at risk and more citizens of Ukraine flee for safety Zelensky remains in his country. He has explained that his family is there too but he will not say where they are hidden for their own safety as Russia continues to keep them as target number two. 
As the war intensifies and more lives continue to be lost Zelensky has remained with his people and has urged other countries to help him and his home. Individuals have left for Ukraine to help the effort from all over the world. Zelensky made his way from a stage meant to make people laugh to a stage thrust upon him that he made into a stage to inspire and give the people of Ukraine hope in a time of darkness.