Hurricane Ian leaves many trapped in their home and others without power
In Florida, specifically, the North Atlantic Ocean, Hurricane Ian struck. This hurricane has been spreading rapidly catching most off guard. This has been one of the strongest hurricanes the United States has seen, drenching most of Florida and the southeastern Atlantic Coast.
The winds of this tropical storm have expanded out 415 miles along the way taking out power for over 2.5 million homes and businesses. Note the strength at landfall was category 4. Luckily the Sheriff's office in Collier Country has a resolution."Portable towers are on the way for cell service. Chances are your loved ones do not have the ability to contact you."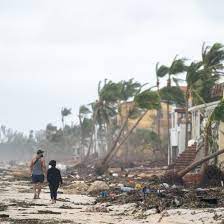 Also, south of where Hurricane Ian made Landfill in Lee country, the sheriff's office has posted a phone number so family and friends could access welfare checks, and they also encourage, "if the line's busy, keep trying." This power outage situation isn't ideal mainly the circumstance that as they are trying to resolve the power problem the outages are just spreading due to Ian moving Inland.
Other than the power complication, many individuals have unfortunately been trapped in their houses due to flooding. (found in https://whyy.org/articles/hurricane-ian-tropical-storm-florida-people-trapped-power-outages/ )
A journalist, Britney Hailer set out North of Forte Myers for her mother whose home was merged within 5 feet of water. To quote, "We don't know when the water is going down." said Britney, "Her only way out is a boat."
This is only one of many experiences of civilians being trapped in their homes, some being even more severe than the example listed above. In addition, average households are the only buildings being affected here. For reference, there have been about 43 nursing homes and many hospitals being evacuated due to damage and flooding. Furthermore, at least 9 hospitals had their water supply cut off. (found in https://www.fiercehealthcare.com/providers/hurricane-ian-forces-florida-hospitals-transfer-patients-shut-down-outpatient-centers )
Speaking of hospitals, in Porte Charlotte due to the storm an Emergency Room was flooded and the roof was nearly ripped off. Moreover, water also gushed down an ICU, which led to quickly evacuating the sickest patients to be moved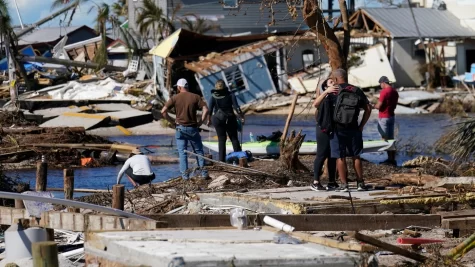 to other floors. According to Doctor Birgit Bodine, staff used towels and plastic bins in an attempt to mop up the unexpected overflow. In this hospital, there were 4 floors, but only 2 were in use, shoved with people due to the destruction of the building. To this Doctor Bodine says, "As long as our patients do OK and nobody ends up dying or having bad outcomes, that's what matters."
Equally important, there have been many deaths, but one death confirmed and witnessed was a 72-year-old man found dead in a water canal behind his home in Dettna near Daytona Beach. A sheriff's office has announced, the man was using a hose to drain his pool into a broad conal and slipped from what was said to be "extremely soft and slippery due to heavy rain."
On topic, the United States Coast Guard had initiated a search and rescue for 23 people and found 3 survivors of the 23, and about 2 miles south of Florida Keys aircrews as they soon after searched for the other 20 migrants.