Should Ke$ha Be Cancelled?
Jeffery Dahmer was an active serial killer between 1978-1991. He was convicted of fifteen of the sixteen murders he committed in Wisconsin as a serial killer and sex offender. During that time period, everyone knew his name, what he did, and how they were traumatized by his actions. Many movies, books, and songs were based on him or referenced him and, when he died, his name being mentioned was seen as a publicity stunt.
Later on, Jeffery Dahmer faded into the background, barely brought up. That is until 2022 when a show on Netflix was aired, giving his gruesome actions the spotlight again.
"Dahmer-Monster: The Jeffery Dahmer Story"
This caused negative conflict between the show, the victim's families, social platforms, and one specific artist, Ke$ha. When this show aired, Ke$ha's song " Cannibal" got some backlash, her song was brought back into the light when her piece came out in 2010. A lyric in her song…
" Be too sweet and you'll be a goner  /  Yea, I'll pull a Jeffrey Dahmer"
made young influencers attack Ke$ha for having this lyric in her song.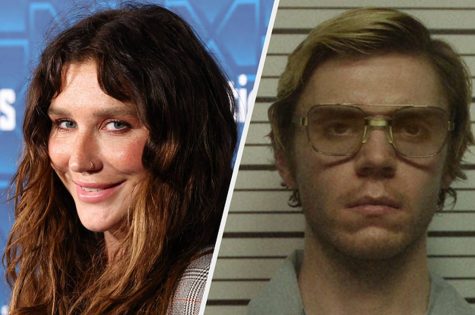 "fans are reexamining pop songs that they believe glorify the serial killer and thus disrespect his victims' families." – Paper magazine
Ke$ha's mother, Pebe Sebert decided enough was enough and took charge of the song she co-wrote.
"The whole Jeffery Dahmer in cannibal is a big controversy right now, and I thought I would just say a few things about it because that was my line that I wrote in cannibal, at the time Ke$ha and the other writer were too young to even know who Jeffery Dahmer was. The way it happened is, I have this rhyming program called master writer for songwriters and we were looking for a rhyme for goner and at the very end of the (unclear) was Jeffery Dahmer and I was like "oh my god that's a perfect lyric" not trying to be insensitive to anybody who families were involved in this and lost loved ones at the time it was a song that we were writing about Ke$ha like Ke$ha was not the most popular girl in high school and she ended up not even getting asked the prom."
But why are we just focusing on Ke$ha? What about the other artists?
 Katy Perry ft. juicy jay – Dark horse   (2013)
" Uh, she's a beast (beast), / I call her Karma (come back) / She eat your heart out like Jeffrey Dahmer (whoo!)
[ E] Juice WRLD ft. YoungBoy Never Broke Again – Bandit (with YoungBoy Never Broke Again)    (2019)
"She a killer and an eater, she a Jeffrey Dahmer "
[E] Eminem- Must Be The Gangi (2009)
"And be calm or bring the drama, a step beyond of Jeffrey Dahmer
[E] Eminem- Brainless  (2013)
"Just think if I had a brain in  it, thank God that I don't Cause I'd  probably be Dahmer, 'cause mama said always"
[E] Eminem – Bagpipes from Baghdad   (2009)
" I'll cut ya like Dahmer, pull a butcher knife on ya"
Famous rappers and famous songs have been made and out for years. They are all the same references about Jeffery Dahmer or have some similarities, but yet Ke$ha gained the most attention. Eminem released two of his songs a year before Ke$ha that both mention Jeffery Dahmer. So why aren't people talking about that too? What is so special about Ke$ha's song Cannibal? This is not the first time Cannibal has gotten more fame because of TikTok.
Let's go back to 2020 when Ke$ha's song Cannibal was again popular.
In 2o20, Cannibal was a dance trend on TikTok. So it's ok to dance to Ke$ha's song and make it a trend in 2020 but suddenly people are giving backlash about the song when they were probably doing the dance trend too!
This show that Netflix has issued has caused great issues for all. Even for people who weren't even there or involved but just used his name for publicity. The songs have been out for years, other songs have attacked the artists, and other songs mentioned some other issues too.
So in that ending, if we are going to attack Ke$ha, then we attack all.