Dodgers Postseason Slipped Away, Concluding a Tribute to Vin Scully
Breaking the franchise's record with 111 wins during the regular season, the Los Angeles Dodgers fall to the San Diego Padres and are eliminated from the postseason. As game 4 at Petco Park was make or break for the Dodgers season, unfortunately ending in a  3-0 lead. Manager Dave Roberts said that the "shock factor" was "very high" and that "it's crushing" to their impressive record. "We didn't accomplish our goal and that's the bottom line. Yeah, this hurts," said Roberts. Fans were expecting to cook the Padres and were excited to beat them just as the Dodgers did in the regular season, but all hope was lost by the last inning during Chris Taylor's final strikeout. Fans even questioned the roster as it wasn't filled with the typical lineup of players. Although the Dodgers were anticipating a longer season, Trea Turner, Tyler Anderson, Andrew Heaney, and Dodgers' veteran Clayton Kershaw are now considered free agents.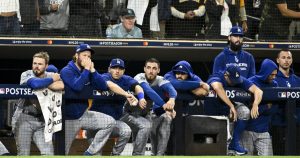 This season was especially important to the Dodgers and their fans because of the Win for Vin tribute. Legendary Vin Scully, a Dodgers' commentator for 67 years, passed away during the 2022 regular season. Tributes spread across the nation but centered in Los Angeles, as he was the heart of the Dodgers to many fans. "Vin" was embellished onto the player's jerseys, and all over Dodger Stadium. The phrase "Win for Vin" also trended across social media. Even the street entering Dodger Stadium has been named "Vin Scully Avenue" for many years. Soon after Scully's passing, the Dodgers won 12 consecutive games in a row kickstarting "Win For Vin." 
Despite this season paying major tribute to Vin Scully and his career, fans were considered exceptionally disappointed at the abrupt loss during the first round of postseason playoffs.