Santiago High School New Assistant Principal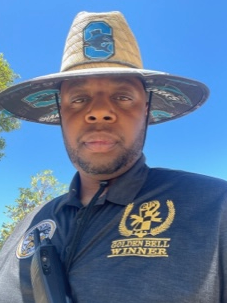 This year class of 2023 earned a new assistant principal. Dr. Heron. Assistant principals are always here to help students on campus so it's always good to get to know them, especially when they are new. That being said I thought it would be great to interview Dr. Heron with questions to help the community of Santiago High School gets to know him better.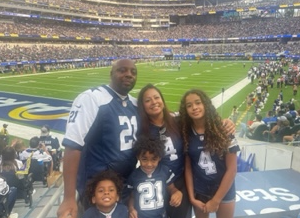 Going into the interview, a good first question would be to ask Dr. Heron about his background. He told me about his family "I am a dad, family of four, two daughters and two sons", he also mentioned that you would most likely see his two sons at school events like football games and they were at fright night as well. If you have seen him around campus he is a pretty tall guy so there wasn't a big surprise to me when he said he's a basketball player. If you love the lakers you will definitely get along with Dr. Heron. You might hear him yelling from time to time "how bout them cowboys" as he is a big cowboys fan. He also expressed how he loves students and working with them and helping others, which is always great to hear as a student. Along with Dr. Torres, he is a big USC fan and earned his doctorate degree there. A new fact about him is that he is new to golf and is the best golfer here. He also said "I will challenge anyone" so if you are a golfer you should definitely send him an email about a golfing competition sometime. 
Whenever meeting someone new, I love hearing interesting facts about them that some people might not know. Since I didn't know Dr. Heron before interviewing him I decided to ask him that question and the answer I got wasn't something I would have expected. Dr. Heron is an Anime fan. After speaking with a student during quarantine about anime he watched Attack on Titans for the first time. He wouldn't call himself an avid anime watcher but he has watched a lot of them over the last two years. Currently, he is watching One Piece. With his interest in anime for Halloween, he said "I think I want to be king of the pirates". I know on campus there are many students who watch anime so knowing this about a new AP on campus can help students gain a better connection with the staff here.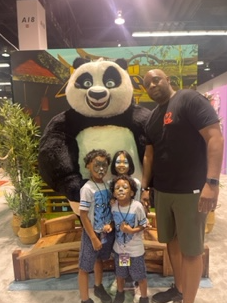 When asked about what led him to this job at Santiago his answer was the students. He explained that he lives in Eastville and out there he noticed he would always see students working out there and when he would talk with them they would always say how they went to Santiago High School. Basically, he has been hearing about Santiago ever since his family moved out here which is pretty cool. Students would always tell him how amazing the school is and when the opportunity presented itself he took it to see if it was all made out to be what people have told him. He said, "me being here I see why everyone loves Santiago". Hearing a staff member who has worked at other campuses say "this is definitely the best place in the district… best students in the district hands down" is always a great feeling and truly shows how great of a school Santiago truly is. 
Before ending this interview I wanted to hear the advice he would give to seniors since after this year we are all going out into the real world. His answer was "the Five Ps". The Five Ps are "Proper Planning Prevents Poor Performance". Another one he said he always tells people is "you make selfless decisions not selfish decisions". With that, he mentioned using the resources the school provides us and using them to their full potential. He also expressed that we should all start doing things now at 17-18 years old because it will benefit us five years down the line, "the decisions we make today do affect you later on down the line". At the very end of talking about this, he also said "get out there" which I really think is important to hear someone say because it truly is a very important thing to do especially for students' futures after high school.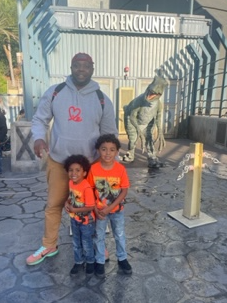 After reading this I hope you all got to learn about our new AP. Thank you again Dr. Heron for doing this interview with me which made this article possible!