Was Cheating Worth it?
Has he ruined his career? His Family? And his Image as a celebrity? To this, I would say, YES!
The famous singer and songwriter, Adam Levine was accused of cheating on his pregnant wife, Behati Prinsloo, with famous Instagram model Summer Stroh. The accusations all started when Stroh spoke up and posted screenshots of their relationship over text. Summer who was 23 at the time and Adam who was 43.
The evidence was posted on September 19th, 2022. The receipts were posted on Summer's personal TikTok account.
Adam denied all of the accusations and he quoted that he "crossed the line" when he talked to her over social media.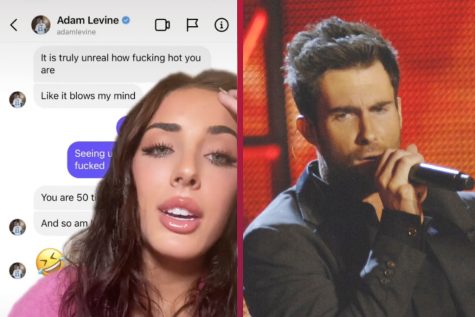 All quoted from Adam Levine himself about the affair
"I used poor judgment in speaking with anyone other than my wife in any kind of flirtatious manner."
"I did not have an affair nevertheless, I crossed the line during a regrettable period of my life."
"I have addressed that and taken proactive steps to remedy this with my family."
"My wife and my family is all I care about in this world."
"To be this naive and stupid enough to risk the only thing that truly matters to me was the greatest mistake I could ever make. I will never make it again."
What did Sumner say in her confession?
Sumner started this all off by posting the video on her personal TikTok account. She started the video off with, a quote from Sumner herself, "Essentially, I was having an affair with a man who's married to a Victoria's Secret Model." She, later on, says how she was very young, naive, and exploited. She explains how she was very easily manipulated in this situation. Sumner shows them some screenshots from these messages via Instagram.
Sumner had apparently cut off all contact with Adam, but out of nowhere, he had texted her.
The text stated, " Okay serious question. I'm having another baby and if it's a boy I really wanna name it Sumner. You ok with that? DEAD serious."
The video then leads on to her saying how she was manipulated in the relationship. Sumner never wanted to have the relationship be public but instead private.
Her job also played a part in the situation with there being possible backlash with her profession of her being an Instagram model. Not only that but stereotypes are also an issue in all of this madness.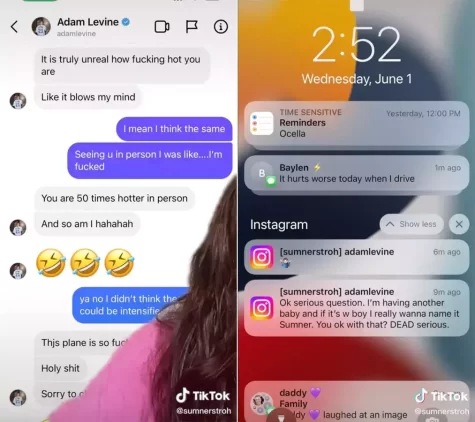 How did this all get leaked?
I think we all want to know how this affair got leaked to the media. It was all a mistake on Sumner's part in all truth.
She quoted, "I had sent some screenshots recklessly to a few friends I thought I trusted and one of them had attempted to sell to a tabloid."
Sumner's second confession
Oh, but how quiet was Sumner to defend herself the day her first video is posted? It began with someone commenting on the first video, "It's no secret he's been married for a decade. The only victim here is his wife and children."
In response to the comment she says how embarrassed, remorseful and disgusted she is with herself for the role that she played. And how she didn't want people to say she was acting like the victim in this situation but it had the opposite effect.
Her reason to come forward was due to the attempt to kill whatever story the tabloid had.
She quotes, "The most important part that I did definitely gloss over is the fact that I was under the impression that their marriage was over."
Sumner then explains how and why she feels exploited. The belief that the reason they all kept the situation quiet was to avoid negative press and she assumed that it's how celebrities of their status just take care of stuff. She then states how her being new to LA naively put her in a vulnerable position with Adam.
Something that was fishy is that Levine would message Stroh straight from his verified Instagram account leading her to believe that to be one of the manipulation tactics. So when she realized communication was cut off completely between the two.
Finally, Sumner is giving the true victims an apology they deserve, Behati and the children.
What did Behati Prinsloo respond with?
The victim of this whole situation is staying married to her cheating husband. She explains how she is committed to her family but has not forgiven her husband yet. Behati seems to be trying her best with what was given to her. It's been a horrible time for her and even worse that her husband is busy with work including "Maroon 5" In Las Vegas.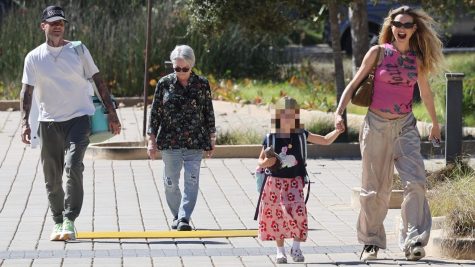 A source stated, "They're just doing their best to be kind and patient with each other while they tough things out."
"He admitted that he went behind her back and has been inappropriate. He admitted that he acted like an idiot. She is still very upset though."
The rumors are indefinitely making this whole situation 10x worse. But it seems like a strong woman is doing her best for her family and putting her feelings aside. But it looks like she is 100% committed to her family.
On the bright side, it looks like Adam has been very comforting in this whole situation.