Santiagos Head of Film: TV Production
You can find them running in circles to get the best angle at pep rallies, or taking videos on the field at our school's sports events. TV production has clearly dedicated kids, with a passion that is seen in their work. With all of this hard work, which you can see most prominently on social media, I was determined to go behind the scenes and get the inside scoop on all that goes into TV Production.
Questions for TV Production Students:
I asked Ava Acuesta (12) to tell us what a normal day is like when you go to your TV production class, to which she replied: "So although we've had a leap of absence this semester, TV production consists of interviewing other students, teachers, staff/faculty… And then also being in the back in the green-screen room and using tons of equipment to use what we have to the best of our advantage. And we also have another room in the back which consists of hours of editing for getting out a good episode."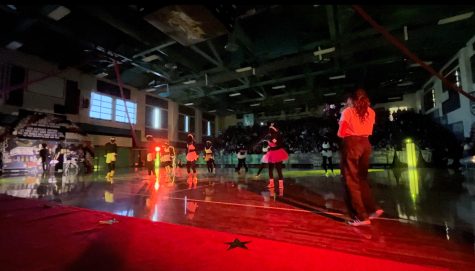 My next question went out to Alexa Mitchell (12) and I asked if it takes up a lot of your time outside of class.
Alexa answered: "It can, depending on the deadline, how much effort you want to put into the work, how into the project you get if that makes sense…But it's really worth it to see your final product advance" 
So from a bystander's perspective, it is clear that time is used wisely when they are given material to edit to the best of their ability.
What kind of events or material do Video Production students look to capture?
"Everything. Rallies and after-school events are some of the main ones. Sharkfest and Winterfest are some examples. We cover all sporting events for the most part… or trying to at least. And we kinda just cover day-to-day campus life." Says, Sophia Garcia (11)
Next, I asked Bryce Hatch (12) where students can get a glimpse of the work of TV production, and he mentioned, "You can go on YouTube; Shark TV. You can go on the Shark TV youtube channel and see all the episodes of Shark TV. And TikTok. We have a TikTok go follow it @sharktvcrew"
So now that we know the basis of TV Production, and what they do, I was curious by this point about the equipment that is necessary for producing a cinematic masterpiece, 
In this case, I asked another Julius Jackson (12) and he said: "Cameras. Microphones. Hmm. SD cards, computers, Final Cut Pro. My favorite camera to work with is the Sony A7…and TikTok. We use TikTok a lot." – 
Do you feel T/V production gets enough credit? No. I think we do so much more work than anyone else on campus. It's a real shame people don't appreciate us as much." – Matt Lawer (12)
Questions For The Director – (aka Mr. G)
How well do you think students who participate in your class highlight our school's most engaging events? "I think they do a great job at it. Like I think that especially our rally edits… are freaking legit! And Friday Night Lights!"
What do you think this class will supply to students who are graduating or are already graduated? "I think that this class offers a lot of opportunities for leadership. You know, it plays a lot of different roles in the editing process, and the ability to go out creatively… really… this all comes from them."
Both on the field and in the classroom, the students ultimately make Santiago's TV Production one of the best classes to find yourself in.