Is Gunna Still Pushin Plea?
After the hit artist Gunna who started the trend of "Pushin P" around January 2022, was shortly arrested 4 months later on R.I.C.O. charges relating to the Y.S.L case. He was eventually released from prison later that year in December after agreeing to enter a guilty plea to multiple gang-related charges. But within the 2 weeks after he was released, social media sparked up with memes/rumors of him allegedly "snitching" in this Y.S.L case. This even got the attention of rappers such as the internet attention grabber (6ix9ine), Lil Durk, Boosie BadAZZ, and even one of his industry brothers too (Lil Baby). 
On December 14, 2022: Gunna spoke amongst himself and others involved in this Y.S.L. case about the federal charges he was potentially facing visibly in the courtroom. The defendant in the courtroom vividly told Gunna: "Y.S.L is a music label and a gang and you have personal knowledge that members or associates of Y.S.L have committed crimes and burdens of the gang". Gunna replied back with: " Yes Ma'am". She also asked him again at the end of the conversation: " Do you acknowledge the following statement? I recognize except and deeply regret that my talent and music indirectly further Y.S.L. the gang to the detriment of my community. Y.S.L. as a gang must end. Is that your statement or acknowledgment". Then he once again responds back with: "Yes." Once he agreed to all those statements he was later freed the same day, but it took a different turn on social media. The video of him agreeing to everything the defendant's lady said quickly took notice over every social media platform. One of the very first rappers to speak about his snitching allegations video was 6ix9ine. He commented under an Instagram post stating something super offensive to which 6ix9ine demonstrated that he had no remorse for Gunna at all and anything he has to say for it. Another rapper that spoke up about this situation was whom he featured in the hit song "What Happened to Virgil" (Lil Durk). In an unreleased song made by Lil Durk, he spoke a specific lyric potentially relating to Gunna. Lil Durk rapped that  "What happened to Virgil, he probably gon tell." The truth is yet to be discovered if it was an actual diss but from the looks of it though it does. Then again another old-school rapper (Boosie BadAZZ) tweeted about how he would react if one of his brothers pulled the plug and snitched in the courtroom visibly. He was definitely outreaching within his statement about what he would do in a situation like this.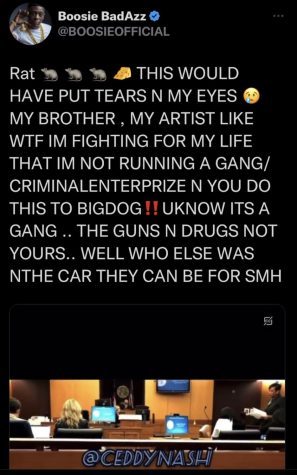 With Gunna being piled up with all this backlash on social media platforms about his snitching allegations he was facing even harder hits costing him some friendships. Other rappers unfollowing him off Instagram such as Meek Mill, Polo G, Lil Gotit, and even Lil Baby.  But what sparks the match with Lil Baby unfollowing him is the fact that their friendship goes all the way back to when Lil Baby used to pay Gunna $100 to make him songs that could help him develop skills as an actual rapper. They both did several collaboration albums in the past, making the hit album of 2018 Drip Harder. After potentially viewing this distancing move from Lil Baby it will definitely keep a debate on social media whether they shall stay friends or not. 
It is definitely going to be a struggle for Gunna to get back on his feet again and drop quality music with potential features from other artists. But for now, Gunna is for sure keeping a low profile on social media and in real life with regards to his snitching allegations video going viral on social media. Some may say that " He is a snitch" or " He should've stayed 10 toes and never folded" but Gunna was given a chance for freedom and took it. So with the position he is stuck in right now his best option is to build those bridges that he burned and keep on pushing forward with this whole situation.