The Protest of our Generation
Who? When? Where? Why? And how? There are many questions I think we all have been asking ourselves.
Some would say this is the protest of our generation, while others could have a completely different view. Have these two men changed and made history?
Let's first start with the Who. It would be the three lawmakers nicknamed "The Tennessee Three." It included Justin Jones, Justin Pearson, and Gloria Johnson. It initially started on March 30th in Nashville, Tennessee, which was why the start at a Christian school in Nashville resulted in a gun slaughter with six dead casualties.
Justin Jones and Justin Pearson, who were state representatives, had planned to disrupt a statehouse floor proceeding with their protest, including megaphones and bullhorns. It was called "The Tennessee Holler." Supporters were repeating the phrase "no action, no peace." The reason was to make a stricter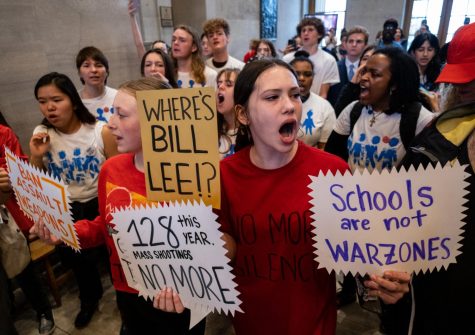 law on gun control. They were tired of being silenced by the people in power, so finally, they took action and walked the floor. Pearson knew they were violating the rules but did it anyway for a change. They wanted attention brought to the topic and a meaningful representation. Many joined the fight, including Representative Gloria Johnson.
During an interview after the attempt at change, Justin Pearson stated, "The Republican party in Tennessee would rather try to put more guns and security officers in schools than solutions."
It was intended to be a peaceful protest, and they wanted no violence involved. During it, Jones tried to record the people and media being kicked out of the house gallery, and he got his phone snatched and was pushed onto the floor.
The result of the protest for change was not pretty; it resulted in both Justin Jones and Justin Pearson being expelled and Gloria Johnson being very close to that as well. The Republicans in Tennessee thought using the first amendment deserved an explosion. The leaders didn't expect to get expulsion since all they did was listen to the people about gun violence and take peaceful protests for change.
During an interview, the following was quoted, "An act non-violence protest was expulsion but an act of violence and instigation and reaction there was no accountability."
Racism 100% plays an important part in this. Pearson and Jones are both African American men, while Johnson is a White woman. Interestingly, only people of color got their careers affected and ruined for doing the same as a person of no color. The New York Times stated, "Since that moment one week ago, the careers of the men have fused to create "the Justins," a phenomenon that has dominated the national stage, merging a sprawling conversation on gun violence, race and democracy into one potent political package."
Both of these statements were quoted during an interview about this topic:
" I mean, I think there is no coincidence that the two youngest black lawmakers… were kicked out by an almost entirely white, 75% member caucus."-Jones
"We can not ignore the racial dynamic that is undergirding this institution in the state capitol, and we really have to make sure that in this conversation we are not only addressing the racial dynamics but why were expulsion papers filed on any of us, the reason was that we were advocating for an end of gun violence we said we have to stand up to the national rifle association, the Tennessee firearms association"-Pearson